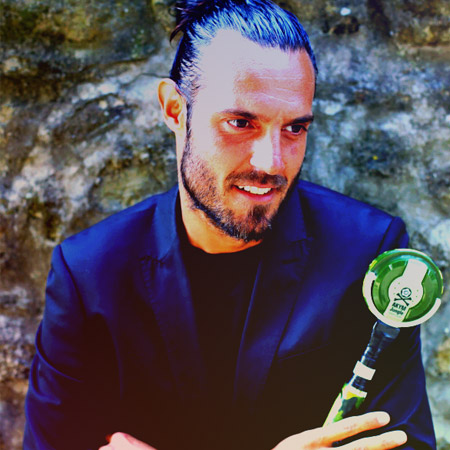 DJ Lorenzo
A renowned DJ with a dynamic and enterprising spirit
Has a huge repertoire of Deep House, Dance music, Latin, Hip Hop
DJ Lorenzo adapts perfectly to all kinds of public or private events
Performed on cruise ships for Costa Cruises
Based in Florence, Italy and available to perform at events worldwide
DJ Lorenzo is a dynamic and enterprising spirit, who entered the world of DJ'ing by accident, beginning off as an audio and light engineer, before he began his passion of DJ'ing in Italian hotels back in 2002.
He stands out for his excellent interpersonal skills, so much so, that in addition to being a great technical DJ, he is also a real entertainer and animator. He has a huge, mixed repertoire of Deep House, Dance music, 1970s - 1990s, Latin, Hip Hop, Lounge and Chill Out of an impressive 40,000 songs.
DJ Lorenzo has travelled all over the world with his Djing skills, including performances in the Dominican Republic and Egypt and various cruise ships, in particular on the "Costa Serena", "Costa Victoria" and "Costa Romantica", ships operated by Costa Cruises.
He is now resident DJ at the Viktoria Lounge Bar in Florence and with the experiences he has gained, Lorenzo now adapts perfectly to all kinds of public or private events for which he works, making him one of the most dynamic and enterprising DJs around.
To find out more contact our team of Entertainment Specialists.
" I just wanted to say thank you for making our wedding special and unforgettable. Marco forgot to thank you during the speech but just know we had an amazing time. The guests as you already saw didn't want to stop dancing so thank you!!!! "

Scarlett Entertainment Client
" DJ Lorenzo was fantastic, everything you would expect from a creative music professional and more. He was calm, assured, flexible and constructive in his interactions with us; above all his familiarity with a very wide range of musical styles allowed us to design and pull off a magical event. And all done with just the right amount of cool. Our guests kept asking us where we found him! "

Giri and Asia - Scarlett Entertainment Clients
" It has been a pleasure working with DJ Lorenzo! We had a mixed Indian and Italian wedding with guests from all over the world and he ensured that everyone had a great time. Prior to the wedding we had communicated with one another regarding the specifics of the event and some songs we absolutely wanted him to play and he made it all happen without any issues. He is a very flexible DJ and very easy to work with so I would definitely recommend him to other clients who are looking for a DJ that will keep the party going! Our wedding guests did not want to leave the dance floor and that was something very nice to see at our wedding! "

Marco and Bhavna​
" During the party all the guests had a fantastic time and they had so much fun that they did not want to leave. Lorenzo was not only an amazing talented DJ (the bride and groom but also the vendors said he was a really great one) but he was also very kind and professional throughout the whole planning and event. Grazie mille Lorenzo, you really made the party! "

Sara Bartolini
" DJ Lorenzo was very helpful during our coordination before the wedding, and it was easy to show him our style and what we wanted as songs because of this questions and how he approached us. In the wedding he was looking sharp, well dressed and he is a good looking guy that had a great impression on the guests, especially from what I heard from the female guests. It was easy for him to add in our Arabic songs and he was able to mix it up even though he does not speak the language, but it looked like he was very familiar with the oriental style. The fact that all of my guests were dancing and hyped, even grownups, shows that he did a successful job. We are glad to chose him for our wedding! "

Gilbert Khalil​
" Dear Scarlett,many thanks for supplying Lorenzo for our wedding DJ music. He was fun, bright and really helped make the night special. We had special requests for music that he fulfilled and integrated into his set so well. His help was invaluable. We highly recommend Lorenzo for weddings and we thank him, we are so happy with his service and communication. Many thanks Lorenzo! "

Karl and Lara Goldstraw
" What can we say, DJ Lorenzo was a complete legend and totally exceeded our expectations. From the planning pre wedding to delivering a sensational vibe across our 2 day event, he 100% bought the party and our guests loved him. We will defiantly be asking DJ Lorenzo to join us as our next big celebration. We cannot that you enough, you made our wedding go off ;)! "

Fran and Finn
" It has been a real pleasure working with Lorenzo. He arrived at the event sharp on time and with all the information. He accepted the general guidance from the couple and mixed them with his know how to play the right type of music at the right moment! Flexible and kind, the dance floor was packed thanks to him. "

Alessia