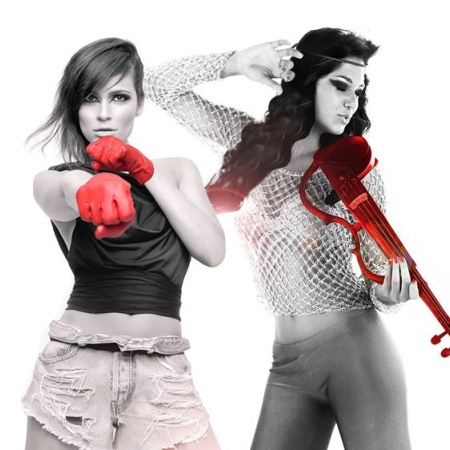 DJ & Violinist Brazil
2013 Award-winning DJ and Violinist duo
Possesses a wide range of repertoire, perfect for any type of audience
In-demand with clubs, corporate events, festivals, outdoor parties
Previous clients include Club Privilege, Zouk, The One, Club Deep
Based in Brazil and available to perform at events worldwide
DJ & Violinist Brazil PHOTOS
DJ and Violinist Brazil is an electrifying mix of beauty and musical talent. Named by one of Brazil's most respected magazines as the Best Female Live Performers of 2013, DJ and Violinist Brazil is one class act. They have established themselves as one of the most sought after duo's in Brazil's live music scene, playing in a number of famous party places in the country such as the Cafe Del Mar, Club Priviledge, and Zouk.
Fusing electronic music and violin, DJ and Violinist Brazil brings both energy and style to any dance floor or party, whether indoor or outdoor. This unlikely mix has allowed them to capture the imagination and interest of audiences. With DJ and Violinist Brazil around, you can be sure to maintain the energy level of the crowd.
Not only are they both beautiful, both are also seasoned musicians. The violinist has been playing since she was 13 and has studied music in the United States. She has continuously honed her craft playing for several orchestras around Brazil and abroad. The DJ has garnered a number of awards from top music magazines for her talent and musical creativity. She began her career as a DJ in New York, and has travelled the world perfecting her craft.
Now, regular favourites in the clubbing scene of Latin America, DJ and Violinist Brazil continues to wow audiences wherever they go, making them favourites in festivals, clubs, private parties, corporate events, and product launches. If you are looking for non-stop, high-energy entertainment, you can't go wrong with DJ and Violinist Brazil.
Pacha
Green Barra Beach Club
Club Privilege
Havana Dining Club
Zouk Club
Sorocaba Crocodillo Club
Anzuclub
Miroir
Cinco Club
Empire Club
Club The One
Club Deep
Sky Beach