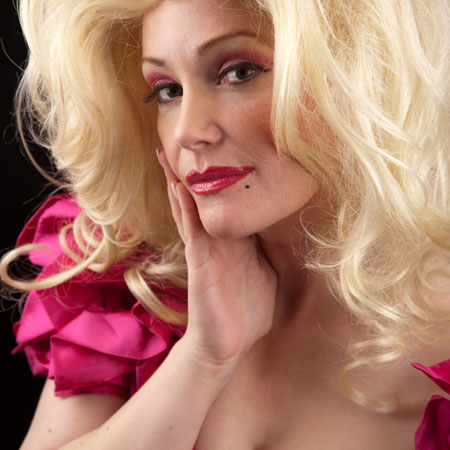 Dolly Parton Show
Dolly Parton Tribute Show with Live Band- Highly Recommended
UK's most indemand Dolly Parton impersonator
Live Country and Western Tribute Act
Perfect for 4th July parties and Country/Western themed parties
Based in the UK and available to perform Worldwide
This show pays tribute to one of the greatest icons of popular music: Dolly Parton. The stunning vocals of Andrea are backed by an all live 4 piece band. You can expect to hear accurate versions of Dolly's most celebrated material, from her early Country classics such as "Coat of Many Colours" and "Applejack", through to the later smash hits such as "Jolene", "Islands in the Stream", "I Will Always Love You" and "9 to 5".
   
Andrea has been a professional singer for many years, mainly performing at weddings and functions. In that time, many people have commented on her similarity in sound and style to Dolly Parton. As a life long fan of Dolly's, Andrea always took this as a huge compliment, but it was only recently that she has decided to use that aspect of her talent to reach a wider audience.  A new band was formed featuring some of the most capable and experienced musicians in the North East. 
When our Dolly Parton tribute artist performs solo she usually does two 40 minute sets, with a full costume change during the break. She sings all of Dolly's most well known songs, as well as many country standards and pop classics that Dolly's covered over the years.
She performs completely in character, so the narrative, interactive and humorous elements of her theatre show are maintained when she's on stage solo.
Andrea also plays Dolly in the new Dolly/Kenny theatre show "Islands in the Stream" which features Peter White as Kenny Rogers. Andrea and Peter can perform to playback, and Peter is often booked to make guest appearances with Andrea and her band.
As well as celebrating the life and music of Dolly Parton, Andrea will be incorporating her own experiences and music into the show.  Andrea is able to closely mimic Dolly's unmistakable sound and phrasing, as well as her renowned onstage wit and charm. 
To book our Dolly Parton Show or for more information about booking this tribute act, contact our team of Entertainment Specialists today.
9 to 5
American Trilogy
Applejack
Baby I'm Burning
Better Get to Living
Blue Smoke
Blue Smoke
Coat of Many Colours
Do I Ever Cross Your Mind?
From Here to the Moon and Back
From Here to the Moon and Back
Great Balls of Fire
Harper Valley Pta
Heartbreaker
Here You Come Again
I Feel Sorry for Anyone Who Isn't Me Tonight
I Will Always Love You
Islands in the Stream
Jolene
12th of Never
Little Sparrow
Love is Like a Butterfly
Me and Little Andy
Nobody's Baby (andrea Original)
Pms Blues
Potential New Boyfriend
Real Love
Rhumba Girl
Shinola
Smokey Mountain Memories
Starting from Here (andrea Original)
Take Me Back to the Country
The Bargain Store
The Grass is Blue
The Last Thing on My Mind
The Light of a Clear Blue Morning
Two Doors Down
Why'd You Come in Here
...and many more!
Joshua
Ashcroft Theatre Croydon
Darwen Library Theatre
Theatre Royal Wakefield
Broxbourne Civic Hall Hoddesdon
The Castle Theatre Wellingborough
Lyceum Theatre Crewe
Solway Civic Theatre Whitehaven Cumbria
Belgrade Theatre Coventry
Pavilion Theatre Rhyl
Pheonix Theatre Blyth
Oakengates Theatre @the place Telford
Thistle Hotel Inverness
Arts Guild Theatre Greenock Scotland
Consett Golf Club
And many more...
The Haymarket Basingstoke
Assembly Hall Theatre Tunbridge Wells
Plowright Theatre Scunthorpe
Glasgow Pavilion
Arts Centre Haverhill Suffolk
Robin 2 Wolverhampton
Palace Theatre Newark
Playhouse Whitley Bay
The Journal Tyne Theatre Newcastle
Burnley Mechanics Lancashire
Charity night Dornie Hall Avernish Scotland
The Town Hall Paisley
The Webster Memorial Theatre Arbroath Scotland
Macrobert Arts Centre Sterling
Rainton Meadows Arena Houghton Le Spring
Theatre Royal Lincoln
" When I heard Andrea sing "Islands in The Stream" it could have been Dolly herself.... "

Suzanne SpicerDolly Parton Archive UK
" We had an amazing day and she topped it all off for us - she was amazing! "

Phil and RachaelWedding - Aston Hall, Sheffield
" Everybody thought she was fantastic! "

Janet TrimParkstone Country Club, Dorset
" The best Dolly Parton tribute I've ever heard.. "

Roy CooperCountry Music Promoter
" I'd never liked the song "I Will Always Love You" until I heard her version... "

Brian CloughSmooth Radio
" You have a lovely, lovely voice "

Anne RobinsonWeakest Link Tribute Singers Special
" You have a wonderful voice - your vocal ability is superb "

Joe Skelly