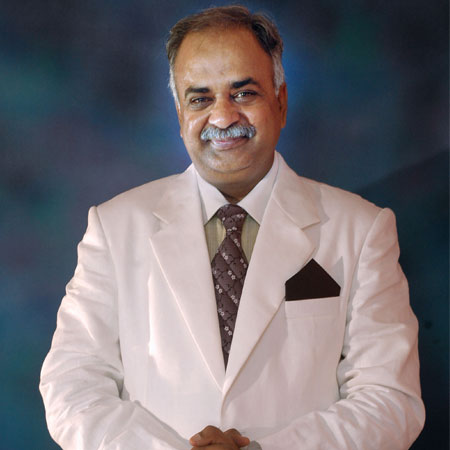 Dr Shailesh Thaker
Thought leader in organisational behaviour and development
Management, Leadership and HR trainer
1500+ workshops across 62 countries
Previous clients include HSBC, Gillette, Philips, Johnson & Johnson...
Based in India & available to speak at events worldwide
Dr Shailesh Thaker PHOTOS
Dr. Shailesh Thaker is a renowned management trainer, whose extensive research in the fields of Adult Learning and Development, and Organisational Behaviour have gained him a plethora of accolades and achievements, including the prestigious Gujarat Gaurav Award in his home state of Gujarat, India for 'Outstanding Citizen of the State'.  He has a doctorate in Cognitive Thinking from the University of Gujarat, India and was awarded a International Training Fellowship at the Junior Chamber International.
He now runs a highly reputed training firm based in Ahmedabad, India, which helps organisations to achieve international benchmarks in management practices.Dr. Thaker is in demand as a keynote speaker, business coach, HR trainer and training guru for management and conferences. Throughout his 22 years in the field, he has conducted over 1567 workshops totally approximately 14,500 hours of training sessions across 62 countries worldwide, and has been invited to address world-class management institutes and universities including Seneca; Institute of Business Administration, Karachi; Lahore University of Management Sciences, Pakistan; National Institute of Fashion Technology; Karachi University; Iqara University, Ned University and GTU university.
Speaker Topics: Change your Thinking, Change your Destiny; EQ- it can matter more than IQ; Manage Less, Lead More; Power of Positive Thinking; Passion for Excellence; Legendary Management; Life - The Music of Love
Topic Keywords: HR Consulting > Business Strategy > Adult Learning and Development > Organisational Development > Management Training > Performance Management 
Harsha Engineering
Rotary International
Bajaj Allianz
Unique Mercantile India Pvt.Ltd.
Claris
The Grand Bhagwati -TGB
ICMA
Knowledge Village
SP Jain
Symphony
Crompton Greaves
State Bank of India
Doshion
Silchar
Transformers
Adani Exports Ltd.
Super Gas
Kalpataru
Johnson & Johnson
Gillette
English Biscuit
Somany
Ahmedabad University
Times of India
Mia Corporation
Lions International Clubs
Scanpoint
United India Insurance
Habib Group
Birla
Atlas chemicals
NED University
Appolo Earthmovers
Ahmedabad Management Association
Life Insurance Corporation
J. G. International School
Birla Yamaha
Cox & Kings
Reliance
Vadilal
Dharmadev
COSMOS
IQRA University
Bank of Baroda
Torrent Power
Times of India
Sitara Chemicals
HSBC
Parle
Suzlon
Max Insurance
JMC
Philips
Hino
Karachi University
JK Laxmi Cement
Kribhco
Rotary International
Wagh Bakri Tea
Central Bank of India
Reliance Communication
Sadbhav Engineering Ltd
Riddhi Siddhi
JPV Group
Gopala Polyplast
Intas Pharma
ESSAR
Torrent Pharma
" I was impressed by the manner in which you were able to customize your work. Our dealers and our staff all felt that you had been on the inside for some time and this made your comments all the more applicable. The professional mix of multimedia with your spoken words contributed to the appreciation of your message even more. "

Graham Bush, Business Support Head, RECKITT BENCKISER, Singapore
" You captured the entire audience's attention and held them spellbound; no small feat at the end of a very busy conference. Your multimedia support is also riveting. It compliments the entire presentation beautifully. Combine this with your ability to connect with an audience, allowing those present to relate to your message and the result was a real magic in the training Hall. "

David Sharine, International Business, GE, Japan
" Your passion and knowledge when coupled with your multi-media presentation inspired all present beyond our wildest expectations. The multiplicity and magnitude of change facing todays leaders has stretched their ability to cope, recreate and move forward. For many, stress overload has created self-doubt. Uncertainty has, at times, immobilized some. "

Abita, Head, ISCO, South Korea
" Listening Dr. Thaker in a session is a great opportunity. His innovativeness, delivery, humour, lucid language and energy level deserve great round of applause at the end of the session .His session on "Laugh, Lead and Learn" was really very much impressive and appealing. Most of the participants went back home with knowledge. "

Col. Mozaffer Zaidi, SI (M), Director, Institute of Business Administration, Karanchi