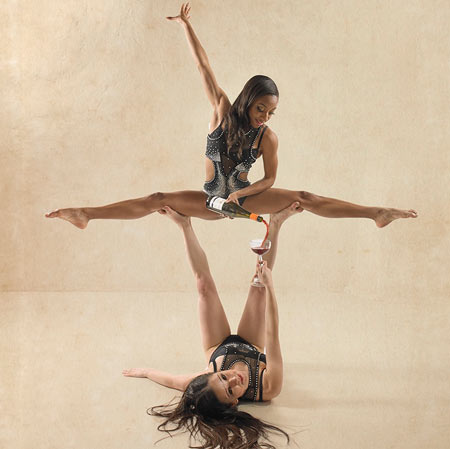 Drinks Pouring Contortion Act
Captivating drinks pouring contortionist offers unique and attractive drinks pouring service.
Expert contortionists will mesmerise guests as they serve refreshments balanced in gravity-defying positions.
Sensual drinks service ideal for making a big impression at receptions, parties and events.
World-renown acrobalance and contortionist performer has appeared in big-budget films and on HBO's hugely popular Game of Thrones.
Amazing contortion act available in London and across the UK.
Book our incredible drinks pouring contortionist to add a unique and eye grabbing attraction to your event. Our expert contortionists will serve your guests wine and cocktails in a huge variety of shapes and positions. This expert acrobalance duo will amaze guests with the skill to perfectly pour drinks while balanced in impossible looking positions. For a unique and captivating drinks service to add brilliant entertainment value to your drinks reception, function or party be sure to book our incredible contortion act. Our exotic and impressive drinks service will captivate guests with their sensual costumes and incredible acrobatic skills. 
Our unbelievably flexible contortionists are among the most talented and sought after performers in the world, having appeared in roles on HBO's Game of Thrones and big budget films like "The Devil Inside" and "Jungle Book: Origins". Few performers can match our contortion act in their contortion and balancing skill. What's more, they have the skill and precision to serve drinks perfectly with both hands and feet, balanced in the air or contorted into incredible shapes. Guest won't be able to take their eyes off our mesmerising drinks pouring contortionists as they expertly serve refreshments while balanced in gravity-defying positions. This incredible drinks service can be performed on top of a bar or in any venue so is perfectly suited to high-end events and receptions where originality and making an impression are key. Our world class acrobalance performers are sure to be the centre of attention at any event and their drinks service will get the party flowing in beautiful and original style. 
Scarlett Entertainment has a huge range of charming and glamorous food and drink servers to keep your guests refreshed in style. We also have a great variety of contortionist and acrobatics acts for the perfect attention-grabbing attraction. Contact our team to arrange booking today.