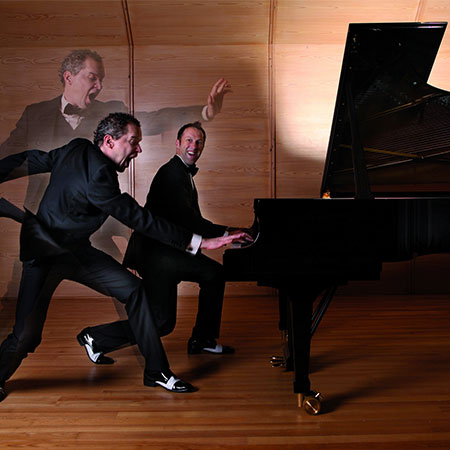 Dueling Piano Act Germany
A funny dueling piano show performed by two talented piano players and entertainers
A piano music act that combines humour with sophisticated piano playing
Musicians can play different dueling piano songs including classical music and film soundtracks
Pianists have performed in all continents and participated in TV shows in China, Iran and Peru
This Dueling Piano Act is available for bookings in Germany and all around the world
Dueling Piano Act Germany VIDEOS
Dueling Piano Act Germany PHOTOS
These friendly and witted piano players and entertainers are guaranteed to win the public over with their contagious energy and their funny dueling piano show, a dynamic and interactive piano music act that is guaranteed to make audiences laugh and sing along with these two piano virtuosos.
A Fusion of Coemdy and Majestic Piano Pieces
A Dueling Piano Act that combines comedy with majestic dueling piano songs, this piano music act can be enjoyed by audiences of all ages. With high doses of humour, our pianists will delight listeners with their talent and their lively sense of humour. Their full performance can be followed by all viewers through a screen that projects their piano keys and their faces, which makes their show ideal for big venues.
Some of the dueling piano songs these sensational piano players and entertainers will perform include famous melodies by classical music composers but also popular soundtracks from films such as 'Pirates of the Caribbean'.. Will prove that classical music can also be entertaining for all sorts of audiences with their version of Beethoven's 'Fur Elise'.
Pianists Have Captivated Audiences Worldwide
This award-winning dueling piano show has captivated audiences all over the world. Fro, Abu Dhabi to New York, our amazing piano players and entertainers have performed at events in the US, South America, the Middle East, Asia and all around Europe. They have had the privilege to bring their piano music act to  every continent and participated in various TV shows in countries like Peru, Iran and China.
Originally from Germany, our pianists are available for bookings all over the world. Their dueling piano act is suitable for a wide range of occasions including galas, exhibitions, ceremonies, corporate events, and many more.
Top Tip:
Did you know the melody from Happy Birthday and Beethoven's pianistic drama 'Pathetique' fit each other? Watch the first video above and listen a unique blend of the worldwide-famous melody and one of the German composer's most popular piano sonatas. This performance is the perfect way to pay tribute to Beethoven, especially when the world is getting ready to commemorate his 250th birthday in 2020.
Make an Enquiry Today
Is this Dueling Piano Act what you have in mind for your upcoming event or big celebration? Then don't hesitate to get in touch with us today and make an enquiry. Our in-house team of Entertainment Specialists will be more than happy to provide further details on this sensational piano music act and assist you in the booking process.
" Virtuosity times 2 "

Tastenwelt
" Piano acrobats "

Süddeutsche Zeitung
" Brilliant show "

Welt am Sonntag
" Just crazy what these two performed on the piano "

FOCUS