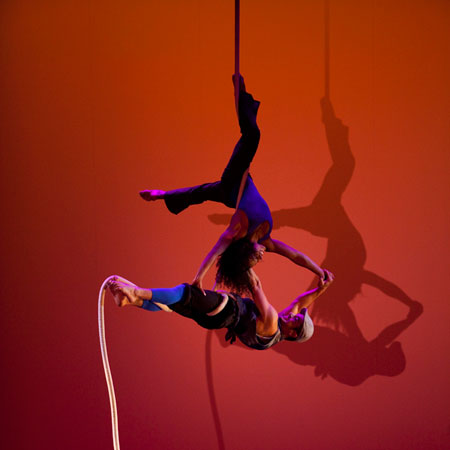 Duo Rope Aerialists Las Vegas
Powerful duo rope aerialists WOW audiences with their extreme displays of strength, agility and flexibility
A beautiful partnership that is the ultimate duo acrobatic act that performs daring lifts, falls and dance routines in mid-air!
Our gymnasts show a magnificent relationship between strength and flexibility as they tumble down from great heights and pull gorgeous shapes
Highly trained aerial dancers who aren't afraid to perform daring moves that has the audience gasping in anticipation
Based in Las Vegas and available for bookings worldwide
Scarlett Entertainment's wonderful duo acrobatic act showcases extreme displays of strength contrasted with jaw dropping falls and elegant shapes in mid air. Our duo rope aerialists WOW audiences with their breath taking partnership and circus performer like routines that showcase their individual abilities as gymnasts and aerial dancers.
Highly trained aerial dancers, this duo acrobatic act keeps their audiences engaged as soon as they place one hand on the rope, a daring performance that you simply cannot take your eyes off. Our outstanding duo acrobatic act offer a circus performer style act through clever choreography that flows effortlessly, making even the most advanced acrobatic movements seem easy. 
A dynamic performance that will have your audiences hooked, our duo acrobatic act have been working together for over seven years which is evident in their fluid performances as the two aerial dancers are extremely strong enabling unique transitions that flow into one another with ease. The circus sounding music amplifies the circus perfomers routine as they contrast levels by using floorwork as well as aerial movements.
Our gymnasts and aerial dancers provide a circus performer persona to add to the physicality of their routine as our female acrobat supports herself as well as her male partner in mid air and vice versa , signifying sheer strength in both aerial dancers. 
The aerial rope is the most challenging duo aerial act due to the simplicity of the rope itself, the gymnasts and aerialists must create every move, shape and transition all whilst being suspended with only the strength in their bicep, forearm and core to support them. This advanced display of duo acrobatics is what makes this act so astounding as even in the most complicated performance that is physically demanding on the acrobats, our aerial dancers maintain poised and are absolutely stunning to watch.
To book our phenomenal Duo Rope Aerialists contact our Entertainment Specialists, or to see more performances from our female acrobat see the following pages: Silk Aerialist, Duo Hoop Aerialists and Pole Aerialist.