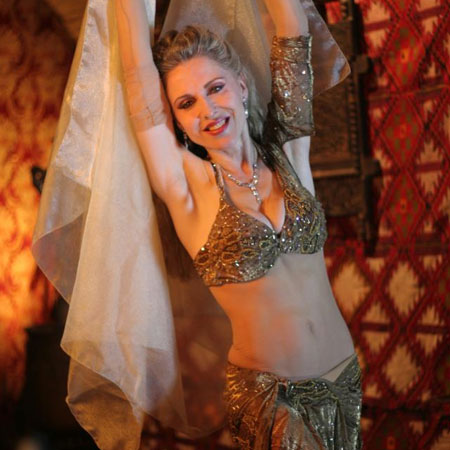 Egyptian Belly Dancer
Has over 25 yrs of experience in the field of Egyptian oriental dance
Appeared at major Cairo venues incl Meridien Heliopolis, Safir, Pyramisa
Available with a folkloric troupe performing traditional dances
Stage show can include audience participation
Based in Cairo, Egypt and available to perform at events worldwide
Egyptian Belly Dancer PHOTOS
Yasmina, sometimes known as 'The English Rose of Cairo', has over twenty-five years of experience in the field of Egyptian oriental dance as a performer, teacher and choreographer. Originally from the UK she spent many years travelling and dancing her way around the Middle East before settling in Cairo in 1995. 
Here she performed with her orchestra for eight consecutive years, building a reputation as one of the city's best-loved dancers, and appearing at major Cairo venues such as Meridien Heliopolis, Safir, Pyramisa and the Semiramis Intercontinental hotels, the Nile Maxime, Tivoli Heliopolis, as well as hundreds of weddings and parties in Cairo and around Egypt. 
A long-time student of Raqia Hassan, as well as other Egyptian master teachers, Yasmina has spent the past decade teaching and performing at sell-out workshops and festivals worldwide, and developing her own unique style.
Yasmina is a founder member and star of 'The Farha Tour', bringing live music and the best of oriental and folkloric dancers to foreign audiences. They have been twice around the UK and as far afield as Australia, as well as regularly holding 'Farha Festivals' with emphasis on teaching with live music, in the UK and Luxor.
To book this special performer for your event contact our team of Entertainment Experts.
Beatta and Horacio Cifuentes Summer Festival Berlin
Jewel of Yorkshire UK
Raqs Congress Brussels
Celebrating Dance UK
South Africa
France
Denmark
Bulgaria
Germany
Spain
Yasmina has headlined numerous festivals and theatre shows in the past several years including:
Turkish Delight Festival Istanbul
Belly Dance Congress UK
Bozar Theatre Brussels
Farha Tour UK and Australia
Solo tours and workshops in:
Australia and the UK
Belgium
Finland
Switzerland
Hungary
USA
and many more...