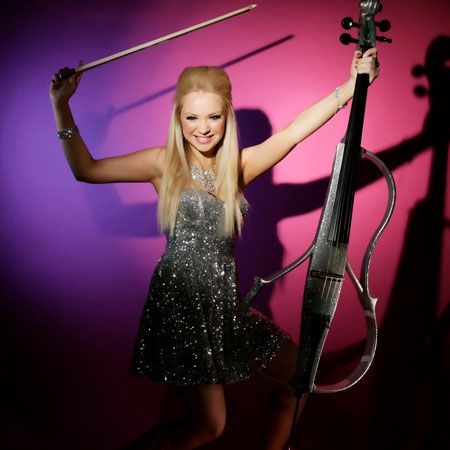 Electric Cello Show
High energy Electric Cello Show with a fusion of classical and pop music
Performed for The Queen at Buckingham Palace and Prime Minister at number 10
As seen on The X Factor, Top of the Pops, Graham Norton, Dancing on Ice
An acoustic cello performance available for weddings and background music
Based in London and in great demand to perform at events worldwide
Electric Cello Show VIDEOS
Electric Cello Show PHOTOS
The Electric Cello Show is an exciting and sensual fusion of classical and pop music performed by this stunning young blonde. The performance is enriched by dynamic backing tracks to give a full multi-instrument sound - the result is a unique musical and visual spectacular which will keep the audience spellbound.
A typical repertoire includes pop versions of all-time classics such as Adagio for Strings by Barber, Bach's Toccata and Fugue, Jai Ho from Slumdog Millionaire and Coldplay's Viva La Vida.
This Electric cellist career took off when her 3-girl band was invited by Take That to be an opening act in their 2007 comeback tour, playing her own composition Body Mind and Soul to audiences of 15,000.
An experienced and confident public performer, she has toured extensively in the UK, Europe, USA, the Middle East and the Far East. She has played at major UK venues including the Royal Albert Hall, Bridgewater Hall, Royal Opera House, 10 Downing Street (to the Prime Minister) and Buckingham Palace (to the Queen several members of the royal family) as well as the British Embassy in Paris.
She was the opening act for the London Fashion Week Launch Event at Il Bottaccio, performed on the main stage at the Diamond Jubilee pageant concert, played at the Olympic Park during the 2012 Olympics and gave a solo electric performance at the 2012 Wimbledon Champions' Dinner.
She has recently performed in Japan (to the Japanese Imperial Family), Jordan (to the Jordanian Royal Family), China, Thailand, India, Singapore, South Korea, Taiwan, New Zealand, Hawaii, Kuwait, Dubai, Bahrain, Turkey, Oman, Lebanon, Morocco and throughout Europe.
Lizzy has appeared many times on TV with artists including Leona Lewis, Gary Barlow, Rihanna, Cheryl Cole, Sugababes, Westlife, Il Divo, Russell Watson, Aled Jones, Charlotte Church, Beverley Knight, Kasabian, Camilla Kerslake, Noisettes, Sharleen Spiteri and Paul Potts. TV shows include: The X-Factor, The Royal Variety Performance, Chris Moyles' Quiz Night, Loose Women, The Rob Brydon Show, GMTV, This Morning, Richard and Judy, Alan Titchmarsh Show, Graham Norton Show, Paul O'Grady Show, Popstar to Operastar, Live at Abbey Road, Children in Need, Songs of Praise, Sport Relief, Dancing on Ice and Top of the Pops. She has recently been on UK-wide tours with Aled Jones and Russell Watson.
She has recorded on albums with James Blunt, Peter Kay, Aled Jones, Camilla Kerslake, Judie Tzuke, Massive Attack, Emma Deigman, Bailey Tzuke and Watershed as well as for the Britannia High TV series and the Take That video. In addition she has collaborated with major producers/songwriters including Eliot Kennedy.
Air on the G String - Bach
Canon - Pachelbel
Jesu, Joy of Man's Desiring - Bach
Morning - Grieg
Pavane - Fauré
Suite No. 1 in G Major - Bach
The Surprise Symphony - Haydn
Waltz from Sleeping Beauty - Tchaikovsky
Amelie
Circle of Life - from The Lion King
E.T.
Gus, the Theatre Cat - from Cats
For Your Eyes Only
Live and Let Die
Thunderball
Love Changes Everything - from Aspects of Love
Phantom of the Opera
The Next best Thing
Air on the G String (upbeat version) - Bach
And I Love Her - Beatles
Bridge over Troubled Water - Simon & Garfunkel
Can you Feel the Love Tonight? - Elton John
Come Together - Beatles
Don't Know Why - Norah Jones
Fever - Peggy Lee
Hello - Lionel Ritchie
Imagine - John Lennon
Lady Madonna - Beatles
Love Is All Around
Money Money Money - Abba
One Day Like This - Elbow
Rolling in the Deep - Adele
Sunrise - Norah Jones
The Long & Winding Road - McCartney
Toss the Feathers - The Corrs
Vincent (Starry Starry Night) - Don Mclean
With or Without You - U2
You Do Something To Me - Paul Weller
Allegro Appassionato - Saint-Saëns
Chanson de Matin - Elgar
In the Hall of the Mountain King - Greig
Nessun Dorma - Puccini
Romeo and Juliet - Tchaikovsky
Prelude, Allemande, Courante, Sarabande, Menuet 1 & 2, Gigue
The Swan - Saint- Saëns
Waltz of the Flowers - Tchaikovsky
Can you Feel the Love Tonight - from The Lion King
Close Every Door - from Joseph & the Amazing Technicolour Dreamcoat
Four Weddings and a Funeral
Jai Ho - from Slumdog Millionaire
From Russia with Love
Nobody Does it Better (from The Spy Who Loved Me)
Tomorrow Never Dies
Music of the Night - from Phantom of the Opera
Romeo and Juliet
Toy Story
Ain't no Sunshine - Eva Cassidy
Autumn Leaves - Eva Cassidy
Canon - Pachelbel
Circle of Life - Elton John
Danny Boy - Foster and Allen
Eleanor Rigby - Beatles
Fields of Gold - Sting
Home - Michael Bublé
Jai Ho - Pussycat Dolls ('Slumdog Millionaire')
Lay All Your Love On Me - Abba
Maxwell's Silver Hammer - Beatles
Moonlight Sonata - Beethoven
Over the Rainbow - Eva Cassidy
Rule the World - Take That
Take My Breath Away - Jessica Simpson
Ticket to Ride - Beatles
Toxic - Britney Spears
Viva la Vida - Coldplay
Wonderful Tonight - Eric Clapton
You Give Me Something - James Morrison
Apres un Rêve - Fauré
Eine Kleine Nachtmusik - Mozart
Meditation from Thaïs - Massenet
Ode to Joy - Beethoven
Scene from Swan Lake - Tchaikovsky
Sonata - Vivaldi
Traumerei - Schumann
A Beautiful Mind
Captain Corelli's Mandolin
Crouching Tiger, Hidden Dragon
Gladiator
James Bond:
Goldfinger
On Her Majesty's Secret Service
You Only Live Twice
Notting Hill
Star Trek
Whistle Down the Wind
All My Loving - Beatles
Baroque Rock - Marin Marais
Cannon Ball - Damien Rice
Closest Thing to Crazy - Katie Melua
Dhoom Machale - Bollywood
Every Breath You Take - Sting
Gimme Gimme Gimme - Abba
Homeward Bound - Simon & Garfunkel
Joote do Paise lo - Bollywood
Let It Be - Beatles
Mercy - Duffy
Mrs Robinson - Simon & Garfunkel
Palladio - Karl Jenkins
Stay with me til Dawn - Judie Tzuke
Tears in Heaven - Eric Clapton
Time to Say Goodbye - Andrea Bocelli
Twist and Shout - Beatles
Warwick Avenue - Duffy
Yellow - Coldplay
You Make It Real To Me - James Morrison
Arioso - BachAve Maria
Gymnopédie No. 1 - Satie
Nocturne (from String Quartet No. 2) - Borodin
Oh! Mio Babbino Caro - Puccini
Spring - Vivaldi
Song without Words - Mendelssohn
Trumpet Voluntary - Clarke
Aladdin
Chocolat
Don't Cry for me Argentina - from Evita
Gosford Park
Diamonds are Forever
James Bond Theme from Dr No
The World is not Enough
Jurassic Park
Ocean's 11
Superman
Adagio for Strings (dance version) - Barber
American Pie
Blackbird - Beatles
Can't Buy Me Love - Beatles
Come Away with Me - Norah Jones
Don't Dream it's Over - Crowded House
Fall at Your Feet - Crowded House
Heaven (candlelight mix) DJ Sammy
If I Aint Got You - Alicia Keys
Kirwani - Eastern and Western fusion
Let There be Love - Nat King Cole
Mohabbatein - Bollywood
Oh Darling - Beatles
Remember - Josh Groban
Summertime - Ella Fitzgerald
Thank You for the Music - Abba
Toccata (hip-hop version) - Bach
Variations - Paganini/Lloyd Webber
When I Fall in Love - Nat King Cole
Yesterday - Beatles
You Raise Me Up - Josh Groban
London Fashion Week Launch Event
Novartis
Cambridge University
Royal Courts of Justice
UNESCO
Sennheiser
Barclays Bank
Wella
HRH Prince Charles at Buckingham Palace
Middle Temple
Gleneagles
Thompson Holidays
Bloomberg
Singapore F1 Grand Prix
Japanese Imperial Family in Tokyo
Kensington Palace
Ronnie Scott's
Farnborough Air Show
BP
Dorchester Hotel
Jordanian Royal Family
Cannizaro Festival
Park Lane Hilton
Belfast Arena (trio Opening Act In Take That Concerts)
" Lizzy represents everything I love about music and life. She is passionate, incredibly talented and fun "

Eliot Kennedy (Producer of Take That, Spice Girls and Bryan Adams; "The X-Factor" Coach)
" Fabulous cellist gave an ELECTRIC performance! "

SuperStar Magazine
" A glamorous evening of fashion and fun ...live performance from the Electric cellist "

OK! Magazine