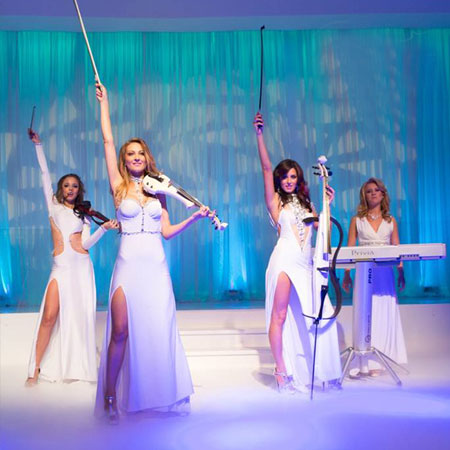 Electric Strings Bucharest
Fast becoming one of the most original String Quartets in Europe
Perform contradictory music styles to shock, surprise and delight
Play everything from Classical, Fusion, Pop, Balkan, Bossa Nova and Jazz
Provide customisable programs that are perfectly suited to your event
Based in Romania and available to perform at events worldwide
Electric Strings Bucharest VIDEOS
Electric Strings Bucharest PHOTOS
Based in Bucharest, our talented String Quartet has travelled all over the world sharing their stunning and often unexpected musical styles with audiences at more than eight thousand concerts.
In high demand, this international string quartet has performed at a diverse range of events including festivals, corporate events, official cocktails or private events throughout Europe, Africa, Asia and the Middle East.
Fast becoming one of the most original bands in Europe, the quartet have taken the successful formula of a traditional quartet and established two highly flexible formulas. These include a contemporary electric string quartet and an electric quartet with a band, providing more of an upbeat party vibe!
Challenging the perception of the traditional String Quartet, the passionate female musicians perform contradictory music styles including Classical, Fusion, Pop, Balkan, Bossa Nova and Jazz to really shock and surprise guests.
Open to any combination, the crossover string quartet is able to provide fully customisable programs that are perfectly suited for your individual event. So whether you are after a sophisticated string quartet to provide ambient background music or a more upbeat party vibe at a private or corporate party - they can provide it all!
Adapting to different types of events and audiences, they put a lot of virtuosity and energy into each show; from classical music with a modern touch, to fully electrified atmosphere party shows, where guests enjoy dancing all night long and evergreens for people to dance too!
To book our outstanding electric string quartet or for more information, contact our Entertainment Specialists today.
1. Besame mucho (Cesara Evora)
2. Blue Danube (Strauss)
3. Bolero (Ravel)
4. Carmen (Bizet)
5. Clockwork (Shantel vs Mahala)
6. Confide in me (original)
7. Cotton Eye Joe (Rednex)
8. Crystallize (Lindsey Stirling)
9. Csardas (Monti)
10. Danse no 5 (Brahms)
11. Derniere Danse (Indila)
12. Donau Walzer (Strauss)
13. Don't worry be happy (Bobby McFerrin)
14. French Cancan (Offenbach)
15. Fuego (Bond)
16. Gloria (Gotan Project)
17. Hava Nagila (Israeli folk song)
18. Hijo de la luna (Mecano)
19. I love rock'n roll (Joan Jetts)
20. I will survive (Gloria Gaynor)
21. Jive Bunny (Glen Miller Medley)
22. James Bond Medley (movie theme)
23. Libertango (Piazzola)
24. Love Story (movie theme)
25. Macarena (Los del Rio)
26. Mission Impossible (movie theme)
27. Oci ciornia (Russian folk song)
28. Pirates Caribbean (movie theme)
29. Rock around the clock (Rock'n Roll)
30. Second Walz (Schostackovich)
31. Storm (Vivaldi)
32. Smooth Criminal (Michael Jackson)
33. Sky is the Limit (original)
34. Skyfall (Adele)
35. She's the One (Robbie Williams)
36. Tango to Evora (Loreena McKennitt)
37. Unstoppable (original)
38. Up!(original)
39. We will rock you (Queen)
40. Viva la vida (Coldplay)
41. Zorba's Dance (Movie theme)
42. Wedding March (Wagner)
43. Wilhelm Tell (Rossini)
Amadeus Band (Vocal-Instrumental) :
1. A night like this (Caro Emerald)
2. Abracadabra (Steve Miller Band)
3. Acky breaky heart (Billy Ray Cyrus)
4. Baby if You give it to me (Mariah Carey)
5. Blurred Lines (Thicke & Pharell)
6. Can't take my eyes off of you (Frankie Valli)
7. Celebration (Kool and the Gang)
8. Country Roads take me home (John Denver)
9. Curacao (Jenny Ropero)
10. Chiwawa (Dj Bobo)
11. Chilli Cha Cha (Jessica Jay)
12. Counting stars (One Republic)
13. Dance me to the end of love (Leonard Cohen)
14. Dancing Queen (Abba)
15. Et si tu n'existais pas (Joe Dassin)
Electric Quartet
17. Funky Town (Lips Inc)
18. Feel (Robbie Williams)
19. Get lucky (Pharell)
20. Gimme Gimme (Abba)
21. Happy (Pharell)
22. I Can't Take My Eyes Off of You (Gloria Gaynor)
23. I Follow River (Lykkie Li)
24. It's my party (Leslie Gore)
25. I'm a believer (The Monkees)
26. I Wanna Be Loved by You (Marilyn Monroe)
27. Jump Around (House of Pain)
28. La bamba (Los Lobos)
29. Lady Hear Me Tonight (Mojo)
30. La isla bonita (Madonna)
31. Let's get it started (Black Eyed Peas)
32. Let's twist again (Chubby Checker)
33. Love Me Again (John Newman)
34. Mamma mia (Abba)
35. Mambo no5 (Lou Bega)
36. Medley Happy Birthday
37. Mercy (Duffy)
38. Neh Nah Nah (Vaya con Dios)
39. Nine Million Bicycles (Katie Melua)
40. No me ames (Marc Anthony)
41. Obladi oblada (The Beatles)
42. Que Sera Sera (Doris Day)
43. Something stupid (Robbie Williams & Nicole Kidman)
44. Sha la la (Vengaboys)
45. Samba de Janeiro (Bellini)
46. Smooth Operator (Sade)
47. Speedy Gonzales (Pat Boone)
48. Supergirl (Reamonn)
49. Sway (Pussycat Dolls)
50. Sweet about me (Gabriela Cilmi)
51. Sweet dreams (Eurythmics)
52. Take a chance with me (Abba)
53. Talk dirty to me (Jason Derulo)
54. Thank You for the Music (Abba)
55. That's amore (Dean Martin)
56. Tequila
57. Thrift Shop (Mackelmore & Ryan Lewis)
58. Those were the days (Hermes)
59. Timber (Pitbull & Kesha)
60. Venus (Bananarama)
61. Vivo per lei (Andrea Bocelli / Laura Pausini)
62. Wake Up Little Susie (Rock'n Roll)
63. Waterloo (Abba)
64. We are family (Sister Sledge)
65. We found love (Rihanna)
66. Wiggle wiggle wiggle (Jason Derulo & Snoop Dogg)
Many other Romanian songs.
16. Ecuador
Stuttgart – CMT 2015
Tel Aviv – Private Party 2014
Cairo – Mitsubishi Attrage Launch 2014
Nisa – Public concert 2013
Kuwait – 50 years Anniversary Gulf
Istanbul – Swarovski Vodka Launch 2013
Cairo – Toyota Fortuner launch 2012
Shanghai – World Expo 2010
Bruxelles – European Parliament 2010
Paris – European Day 2006
And Many Mor
Casablanca – Prestigia Group Event
Beirut – Fete de la Musique 2014
Istanbul – BMW i8 Launch 2014
Rodhos – Greece – New Year's Eve 2014
Baku – New Year's Eve 2013
Insurance Group 2012
Beijing – Porsche 911 Carrera Launch 2012
Berlin – Grune Woche 2012
Romania – Dinner in the Sky 2011
Alger – European Cultural Festival 2008
Cesme Turcia – Cesme Festival
London – ICE Totally Gaming 2015
" "Their music is full of energy, their stage appearance and performance are captivating, and their playing is insane!" "

Most Fashion Magazine, USA
" "In an elegant finale, electric string quartet left the Lebanese yearning for more violin and cello tones. We are very eager and cannot wait for this creative quartet to come back to Beirut again, to play music that delights the city and raises the level of culture." "

Al Joumhouria News, Lebanon