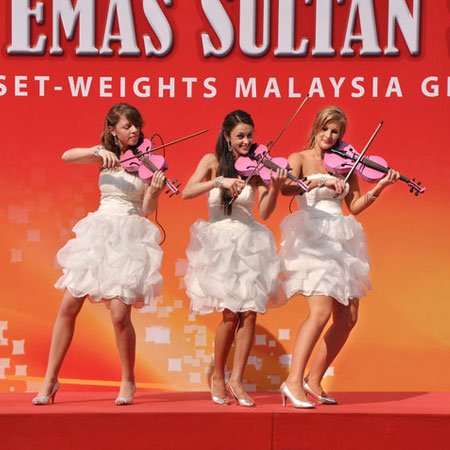 Electric Violin Trio
Three beautiful girls, Three electric violins, One explosive show!
Booked worldwide for royalty, pop stars, politicians, corporate events
Give classical music a completely contemporary slant
Previous clients include Emirates, Vogue, Lexus, Mont Blanc, Volkswagon...
Based in Australia & available to perform at events worldwide
Electric Violin Trio PHOTOS
The perfect compliment to any event, the Electric Violin Trio is a dynamic, sophisticated act, which brings the classics into the twenty-first century with a bang! Three of the world's finest young string players explode onto the stage in a stunning show designed to fit perfectly within the flow of your function. You and your guests have never seen or heard classical music like this before!
Whether they are the featured entertainment at your event, or are called on to brilliantly punctuate its opening or closing, the trio add a level of excitement and sophistication that has to be seen to be believed!
A show designed to compliment any event, the Electric Violin Trio is pure style - these three ladies are immaculately presented performers, play a wide ranging repertoire with a totally professional approach. 
The famous classical songs you know and love get a contemporary twist alongside some great rock anthems and the girls' virtuoso live playing will blow you away. Each a gifted soloist in her own right, these three brilliant musicians are three of the best this country has to offer – most are graduates of leading Conservatoria and all have been trained by the creators of world-renowned live act The Three Waiters, so when these amazing performers get together the result is incredible.
The trio dress glamorously in high-end costumes giving the client the choice between playful little dresses, sexy shimmery black cocktail dresses, glamorous discoball silver ball gowns complete with trains and more. The look is completed with beautiful hair and makeup and of course their signature pink violins. 
Playing everything from Bach and Mozart to Pop and Rock, the Electric Violin Trio give classical music a completely contemporary slant. Your guests have never seen violins played like this before! Their playlist includes Eine Kleine Nachtmusik (Mozart), Toccata & Fugue (Bach), Czardas (Monti), Storm (Vivaldi) Explosive and Victory (Bond), New York New York, Yesterday (Beatles) and specialized requests to suit your event.
Recently launched in the USA, these three brilliant local performers have appeared all over the world, from Beijing to Bangkok, from New York to Venice.
Royal Family- Malaysia
V8Supercars- Sydney
Perfumers CHoice Awards- New York
Lexus- Gold Coast
Jennifer Hudson- USA
Mont Blanc- Shanghai
Bank of Cyprus- Sydney
Volkswagon- Sydney
Emirates- Venice
Orlando WOW awards- USA
And many more...
Vogue- Calgary