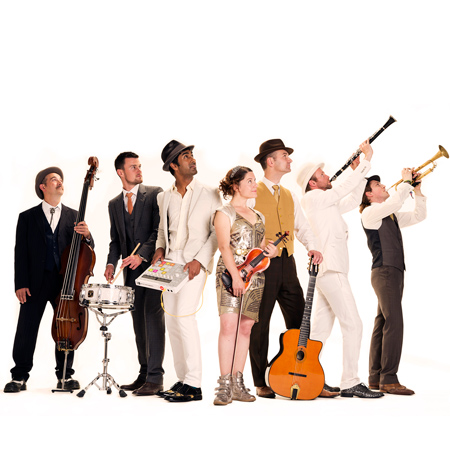 Electro Swing Dance Band
A unique fusion of 1930s and Gypsy Swing with electro beats!
High-energy performances will pack dance floors of any size
Britain's first Live Electro Swing Band
Perform reinvented covers of 'It Ain't Right' & 'Diga Diga Do'
Based in the UK and available to perform at events worldwide
Electro Swing Dance Band PHOTOS
One of the first Electro swing acts in the UK and Britain's first Live Electro Swing band, this group play a unique fusion of vintage 30s and 40s big band hits and Gypsy swing with live-mixed electro beats! Their unique upbeat sound and high-energy performances are a foot-stomping compilation of soaring licks, hot swing-cat vocals and vintage harmonies.
Their irresistible sound will pack dance floors of any size! Armed with trumpet, violin, guitar, double-bass, drums and live beats the band play unique reinvented covers of some of the greatest Swing hits such as "It Ain't Right", "Don't Fall Asleep", "Diga Diga Doo" and "Sing Sing Sing". As well as their own original Electro Swing compositions.
They have been bringing their unique sound to festivals like Glastonbury and private events across the UK since 2009 and have also performed live on BBC Radio 1.
If you really want to impress the guests at your event don't hesitate in speaking to one of our dedicated team of professionals at Scarlett Entertainment who will be more than happy to assist you in booking this live Electro swing band for your event or party! 
London Electro Swing Club New Year's Eve Special
Brighton Festival White Mink Special
Glastonbury Festival 2010
Secret Garden Party 2010
Newham Waterfront Festival
Floridita New Year's Eve Extravaganza
Le Reve @ Cafe de Paris
White Mink London Launch Party
Secret Garden Party 2011
Croissant Neuf Festival
Festival of Jim
Thames Festival 2011
Groucho Club
Zuvuya New Year's Eve Party
Larmer Tree Festival
London Live in Victoria Park
Jelly Festival (Main Stage)
Floridita New Year's Eve Extravaganza
White Mink Brighton 2013
Love Supreme Festival
Boomtown Fair 2013
Ipswich Festival Great Gatsby
Wilderness Festival 2014
White Mink London @ The Village Underground
Time Out Istanbul 'All You Need is Love' Valentines Special
Lovebox Festival
London Freakeasy
Brixton Hootenanny
Arnold Circus 100
Thames Festival
White Mink Brighton Launch Party
Bimble Inn New's Year's Eve Party
Wall Street Crash @ Concorde 2
Glastonbury Festival 2011
Standon Calling Festival
Lowlands Festival (Holland)
Bestival 2011
Secret Garden Pub
Bo Nanafana Social Club
Idolize Spiegeltent @ Ip-Art Festival
Club Zazou @ Floridita
Boomtown Fair 2012 (Main Stage)
Istanbul Jazz Festival (Babylon)
Small World New Years Eve Party
Carnivalesque Brighton Festival Special
Nottingham Riverside Festival
Maui Waui Festival 2013
WOMAD Festival 2014
White Mink Brighton 2014
Glitz and Glamour New Year's Eve Party @ The Market Bar (Dublin Ireland)
White Mink Bath
Glade Festival
" Quite simply one of the very best and longest serving bands on the White Mink stage. This incredible 8-piece band perfectly marries vintage swing with modern beats in a way that few other can match... and importantly, in a way you can Swing-dance to. They have also been the band that have launched more new events and stages for us than any other. These guys always deliver! "

Nick Hollywood, White Mink
" This 8 piece live Electro Swing band is driven by brass and in love with beats. A unique jumping Django Rheinhardt sound "

DJ Penny Metal, Polklanannay
" The originators of live Electro Swing in the UK. They are at the cutting edge of the live remix of the 1920`s to the 1950`s. Unlike most acts, the band are all acclaimed and very talented live musicians. They are on a path to greatness "

Chris Tofu, Electro Swing Club London
" 8-piece live Electro Swing maestros - firm festival favourites "

Cafe de Paris