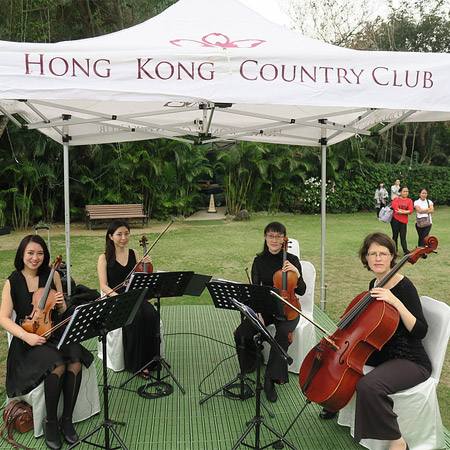 Elegant Female String Quartet
Fantastic string quartet will entertain guests with their enchanting, beautiful music
Elegant female string quartet perfect for creating a smooth ad relaxed atmosphere at weddings, events and private parties
Performed worldwide with pop stars, theatres and world-class orchestras like the Philharmonic Orchestra and City Chamber Orchestra of Hong Kong
Versatile group play everything from classical music by Bach, Mozart and Handel to jazz and modern hits from Pharell Williams and Elton John
Stunning classical quartet based in Hong Kong
Elegant Female String Quartet PHOTOS
Book our fabulous string quartet for a stunning and sophisticated performance at your event. Our female string quartet is sure to impress any audience with their exquisitely beautiful music and classy, elegant performances. Our talented string musicians perform a vibrant and varied repertoire of classical, jazz and modern songs in a stylish performance that's sure to appeal to a huge range of audiences. Guests will adore the heavenly sounds of our classical quartet as they create a sumptuous and classy atmosphere at weddings, parties and events.
Perfect for setting the mood as well as taking centre stage at variety shows and music festivals, our talented quartet will amaze guests with their splendid classical music and promise to deliver a stunning performance every night. This highly trained and accomplished string quartet is made up of top tier musicians who have individually worked with some of the biggest names in international classical music including the City chamber Orchestra of Hong Kong, the British Philharmonic Orchestra and the Louisville Orchestra as well as touring with pop musicians, theatre shows and classical groups around the world.
All of our classical musicians are gifted and renowned solo performers in their own right and together they form a uniquely experienced and versatile string quartet. Our female string quartet has a passion for performing scintillating contemporary and classical music in their unique and captivating style.
With an incredible repertoire of songs ranging from Bach to Pharell Williams and from Mozart to Sigur Ros you won't find a more versatile classical quartet in the business. Their engaging and unpredictable performances are perfect for creating a warm and relaxed mood at garden parties, weddings and events of all kinds.
Scarlett Entertainment features a great selection of string musicians and groups.
To book our Elegant Female String quartet, don't hesitate to contact our friendly team.
Arioso
Bist Du Bei Mir
Can you feel the love tonight-Lion King
Minuet in G
Fur Elise
Nocturne in E-flat major
Air on the G String
Water Music
Le Rejouissance The Sound of Music
Amazing Grace
Blue Moon
Yesterday Viva La Vida
A Thousand Years
The arrival of the Queen of Sheeba