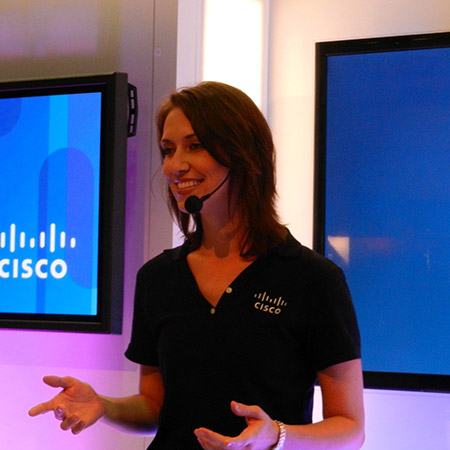 Emcee Julia
Event host with over 15 years experience of presenting, speaking and hosting
Professional presenter with TelePrompter, EarPrompter and Voice Over experience
Female emcee able to effectively memorize content and improvize when necessary
Previous clients include Samsung, Porsche, Nintendo & Many More
Based in Orlando, FL. USA and available to perform at events worldwide
This emcee is the experienced and accomplished event presenter you have been looking for. 
Our talented events host has over 15 years of experience within an array of industries including technology, medicine, education, manufacturing and electronics. This professional hostess is able to effectively engage an audience and convey your events requirements with confidence and clarity. 
Her crowd-gathering capabilities could help your business engage with your target audience. Our experienced event presenter Julia has worked for high profile clients including Samsung, Porsche and Ninetendo. Her natural ability to convey complex jargon with clarity and provide exciting, enthusiastic presentations keep her clients coming back for more. 
This personable, charismatic and professional MC will be the highlight of your event. Enquire now with our entertainment specialists at Scarlett Entertainment USA.
Top Tip:
Why not consider hiring this corporate presenter for a product launch or product demonstration event? This will give you one less thing to worry about and ensure your event runs smoothly. 
Cisco
P&G
Samsung
Canon
Hewlett-Packard
Nintendo
Toshiba
Porsche
Panasonic
HP
" We chose Julia based upon her ability to articulate complex concepts and technical terminology in an easy to understand and engaging fashion. Julia arrived at the show well prepared. She nailed it – message was clear, presentation was clean, inflection was perfect and the audience was enthralled. Julia's ability to ad-lib and create a buzz on the show floor helped initiate an audience and once she began her presentation, the audience would grow in numbers – it was not uncommon for the audience to double in size from the beginning of the presentation to the end. The message she delivers is consistent but she makes it her own by engaging with the audience members, creating a personal bond with them and in turn keeps their attention to her message. Her eloquent vocalization of our company and industry terminology had many competitors, partners and customers asking if she worked for us. People who ran multi-billion dollar businesses thought she had worked for us for 10 years, they were shocked and amazed. It is a testament to Julia's capability to bring a message to life in a personal and believable fashion. I had one competitor ask me, "What's the spokesperson worth?" I said, "Priceless!" At these trade shows, we have products, videos, signs, salespeople and give-aways but none of those tactics can draw in the audience, engage them in conversation, hypnotize them with the message and direct them to the salespeople for follow on conversations – this is Julia's expertise. The bottom line is that Julia personally accounted for getting a bigger audience for our message, she eloquently represented our message and she never had one person leave the booth after she started the presentation (we initially thought the script was too long … either we were wrong about the length or Julia could hold the audience's attention while reading "War and Peace"). We are pleased with our choice of marketing tactics and are thrilled with our choice of spokesperson. We would use Julia again and I would personally recommend her to my friends and colleagues. "

Marty Graen, Vice President Global General Manager, CarestreamNDT
" As part of a new product launch, we were tasked by our client to find a presenter who could deliver a technical message is a fun, captivating way. While sourcing booth talent is always a gamble, I'd say we hit the jackpot with Julia. From our first phone call weeks before the show, to the final minutes of our event, Julia's energy was evident and her ability to hit on point after point was absolutely precise. The client was thrilled with her work, and I can tell you this much: when we need a presenter anywhere in the US, not just Orlando, Julia will be the first person I call. "

Dave Sniadak, Communications Manager, Endeavor Air
" Your Speech was moving and inspiring, and it left me with a feeling of great optimism. Julia's high energy, engaging personality, and smile kept each and every audience member enthralled Her ability to ad lib and interact produced a seamless and perfect presentation each and every time. Julia seemed to make a personal connection with audience members and although it's often hard to gain participation from the audience, she did so with ease. I have been in the industry for over 20 years as an Event Program Manager and can honestly say that I have never worked with a more professional, amazing, dynamic emcee…Julia was the SINGLE most integral part of our booth presence at ASIS making it incredibly successful for Cisco. "

Joannie Loobey, Event Program Manager, Cisco