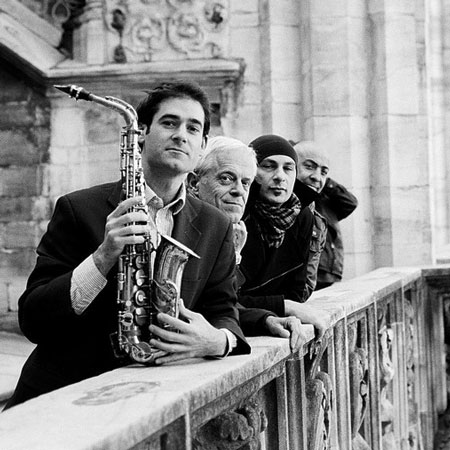 English Jazz Quartet
Award-winning jazz saxophonist fronts superb jazz quartet
Instrumental four-piece can provide background music or stage show
Featuring standards from the Great American Songbook
Versatile, customisable set including relaxed lounge music and fast contemporary jazz
Vast repertoire includes classics and originals
English Jazz Quartet PHOTOS
For events with a contemporary, sophisticated atmosphere, hire this saxophone-led jazz quartet and relax as they soothe the audience with their mellow sound. Featuring a large and customisable set of jazz standards and original tunes, the English Jazz Quartet (consisting of Saxophone, Piano, Double Bass and Drums) can play to suit any jazz-lover's mood and taste.
Having played at some of Europe's most respected jazz clubs, the English Jazz Quartet offer an exciting alternative to the many cover and function bands on the market. Their sound is original and can appeal to jazz aficionados and newcomers alike. The musicians have all played extensively over a variety of styles and bring their broad influences into this innovative quartet. 
With classical, folk and world influences, this inventive and easy-going sound will appeal to more than just jazz fans and give your event charm and warmth. Particularly suited to high-class events as a background act or as the main event of a specialist jazz function, the English Jazz Quartet will provide both atmosphere and virtuosic talent bound to impress and delight your audience.
Due to a large repertoire and years of experience, including stints with jazz giants such as Kenny Wheeler and Jean Toussaint, the band are able to customise sets and include any of your favourite standards. Enquire after tunes from outside the jazz repertoire too, as these skilled musicians can turn their hands to anything. For those with a more detailed knowledge of jazz, the band's original tunes are mellow and innovative, and well worth enquiring after.
Whether your event is a swanky meet-and-greet and wants that little something extra or you're two jazz buffs getting married, the English Jazz Quartet are a supremely talented band of the highest quality and with knowledge and skill spanning the range of what jazz can be.
Enquire now to find out how the English Jazz Quartet can best suit your event, and take a look at their testimonials to be assured you're getting the best on offer! 
In a Sentimental Mood
Little Peace in C for You You
Don't Know
What Love Is
Cry Me a River
The Nearness of You
Love
Sweet Georgia Brown
Lester Leaps In
Mack the Knife
and many more...
My Romance
" Suspended between brilliant writing and illuminating improvisations. "

Salvatore Esposito
" His playing is full of warmth and humanity. "

Bruce Lindsay, AllAboutJazz ezine
" The mood overall is elegiac and largely calm, with clever interplay between the alto and piano. "

Jazzwise Magazine
" Make no mistake, these are musicians at the top of their game and able to incorporate history - not just jazz history, but world history - into an intricate pattern where genre meets genre…The saxophonist is as hot as Rome in summer on alto, and as cool as Alaska in winter on soprano. "

Bebopspokenhere Magazine