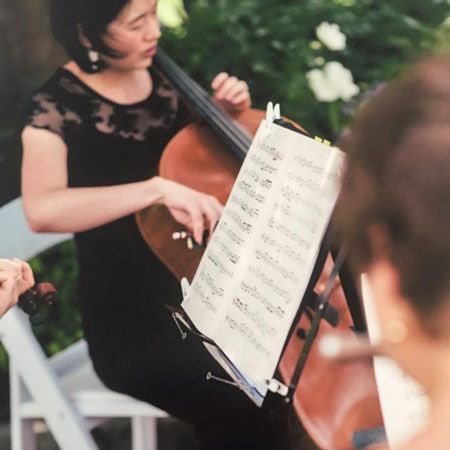 Event Classical Ensembles
Exceptional classical ensembles located all over Australia
Fantastic range of solo musicians, duos, trios and quartets
Perform everything from classical music favourites to contemporary songs
Customisable performances to suit your event or party
Based in Perth, Adelaide, Melbourne, Sydney, Brisbane plus more and able to travel for events
Event Classical Ensembles PHOTOS
From live music for functions to wedding music for the bride to walk down the aisle, our classical ensembles will have the right music for you and that will suit your event. The super talented musicians offer everything from classical music favourites to contemporary songs. If you want it, they will play it.
Spearheaded by a musician with over 15 years experience, the project offers classic ensembles of any shape or size to suit your event. Musicians are handpicked from throughout Australia and available as soloists, duos, trios and quartets and are at hand to provide you and your guests with exquisite live music entertainment. The classical ensembles are made up of musicians who play violin, flute, guitar, harp and cello and you are able to create an ensemble of your choice if desired.
Specialising in providing bespoke live music entertainment for a variety of events and wedding music to suit your big day, the quality of the musicians is of the highest calibre. From Mozart to Mission Impossible, the classical ensembles cater for all musical tastes. You may enjoy the sophisticated charms of classical music greats from Beethoven, Bach and Vivaldi to renditions of contemporary songs by U2, Shania Twain, and The Beatles as well as jazz and film or TV scores. 
Exquisite live music entertainment for dinner parties, drinks receptions, award ceremonies and, obviously, excellent wedding music, The musicians for the ensembles are located in Adelaide, Melbourne, Hobart, Canberra, Sydney, Gold Coast, Brisbane, Sunshine Coast, Cairns, Darwin and Perth. 
Popular Requests:
Canon in D by Pachelbel
Jesu, Joy of Man's Desiring by JS Bach
Romance by Mozart
Spring by Vivaldi
All You Need is Love (Beatles)
Book of Love
Clocks (Coldplay)
Every Breath I Take (Sting)
From This Moment (Shania Twain)
I Don't Want to Miss a Thing (Aerosmith)
Kissing You by Des'ree
Love is in the Air (John Young)
November Rain (Guns and Roses)
Thank you (Dido)
Time to Say Goodbye (Andre Bocelli)
Viva La Vida (Coldplay)
Yellow (Coldplay)
Your Song (Elton John)
Adagio by Albinoni
Arioso by JS Bach
Bolero by Ravel
Concerto De Aranjuez by Rodrigo
Eine Kliene Nacht Musik by Mozart
Largo by Handel
Nessum Dorma by Puccini
Salut d'mour (Elgar)
String Quartets by Haydn
Themes from 'Magic Flute' by Mozart
A Whole New World (From 'Aladdin')
Beauty and the Beast (From 'Beauty and the Beast')
Everything I do (From 'Robin Hood')
How Sweet it is to be Loved By You (From 'My Best Friend's Wedding')
Mission Impossible (From 'Mission Impossible')
Pink Panther
Somewhere Over the Rainbow
Star Trek Theme (From 'Next Generation')
When You Wish Upon a Star
Arrival of the Queen of Sheba by Handel
Gymnopaedie by Satie
Rejoicing by Handel
Song of Joy by Beethoven
All I Want is You (U2)
Bittersweet Symphony (The Verve)
Chasing Cars
Eternal Flame (The Bangles )
Final Countdown
Heaven (Bryan Adams)
Kiss from a Rose (Seal)
Love is All Around (Wet Wet Wet)
Nothing Else Matters
Take My Breath Away (Berlin)
The Way You Make Me Feel
Unforgettable
YMCA (Village People)
You Raise Me Up (Josh Groban)
General Classical Music:
Andante in C by Mozart
Baroque Suite by JS Bach
Claire de lune (Debussy)
Divertimentos 1/2/3 by Mozart
La Plasirs Suite by Telemann
Minuet by Boccherini
Panis Angelicus by Franck
Sheep May Safely Graze by JS Bach
The Swan (Saint Saens)
Film and Television:
Austin Powers
Cavantina (From "The Deer Hunter")
Gabriel's Oboe (From "The Mission")
Lord of the Rings
My Heart Will Go On (From 'Titanic)
Say a Little Prayer (From 'My Best Friend's Wedding')
Stand By Me (From 'Stand By Me')
Under the Sea
Alla Hornpipe by Handel
Gavotte by JS Bach
Morning by Greig
Serenade by Mozart
A Thousand Years
Beautiful Day (U2)
Can't Help Falling in Love (Elvis)
Don't Stop Believing
Fields of Gold
Happy Together
I'm A Believer (Monkees)
Love Story (Taylor Swift)
Nights in White Satin (Moody Blues)
Say a Little Prayer
The Prayer Andrea Bocelli
Unchained Melody (The Righteous Bros.)
With or Without You (U2)
You Are So Beautiful (Joe Cocker)
Your Still the One (Shania Twain)
Adagio from Clarinet Concerto (Mozart)
Ave Verum Corpus by Mozart
Christmas Concerto (Corelli)
Dance of the Blessed Spirits by Gluck
Intermezzo (Mascagni)
London Trios by Haydn
O Mio Babbino Caro by Puccini
Sereneta (Toselli)
The Lark Ascending (Vaughan Williams)
Zadok the Priest (Handel)
Angel (From 'Angel')
Can You Feel the Love Tonight (From 'Lion King')
Forest Gump (From 'Forest Gump')
Kissing You by Des'ree (From "Romeo and Juliet")
Moon River (From 'Breakfast at Tiffanys')
Princess Bride Theme
St Elmo's Fire (From 'St Elmo's Fire')
Unchained Melody (from "Ghost")
Air by JS Bach
Flower Duet by Delibes
March by Handel
Serenade by Haydn
Contemporary Music:
Amazing (Alex Lloyd)
Can You Feel the Love Tonight (Elton John)
Dancing Queen (ABBA)
Everything I Do (Bryan Adams)
Hallelujah (Leonard Cohen)
I Knew I Loved You (Savage Garden)
La vie en rose (Edith Piaf)
Never Tear Us Apart – INXS
Runaway (The Corrs)
The Luckiest (Ben Folds)
Truly Madly Deeply (Savage Garden)
What A Wonderful World (Louis Armstrong)
Yesterday (The Beatles)
Your Still The One (Shania Twain)
Adagio for String (Barber)
Ave Maria by Schubert
Brandenburg Concerto No. 3 by JS Bach
Dance by Borodin
Elegie (Faure)
Let the Bright Seraphim by Handel
Nimrod (Elgar)
Sanctus Spiritos by Vivaldi
The Four Seasons by Vivaldi
Water Music by Handel
All You Need is Love (Beatles) (from "Love Actually")
Buffy the Vampire Slayer (From 'Buffy)
Final Countdown (From 'St Elmo's Fire')
Indiana Jones
Monty Python Theme (From 'Monty Python's Flying Circus')
Pink Panther Theme (From 'Pink Panther')
Somewhere Over the Rainbow (From "Wizard of Oz")
The Way You Look Tonight (From 'My Best Friend's Wedding')
Wind Beneath My Wings (From 'Beaches')
" Everyone has commented on the beautiful music being played and they said it gave out ceremony that personal touch which is exactly what we were after. We will definitely be recommending your services to any of our family and friends in the future. "

Nic and Lauren Scott
" We would like to express our thanks and appreciation for making our wedding ceremony an event to remember. The trio did an excellent job and really added to the atmosphere. I just wished I was there to hear the music as our guests arrived as I'm told the music was beautiful. "

Monique and Anthony Gonczarek
" The Directors, Associates and our clients found the quartet to be the perfect way to begin our function. We even had a few comments that people were moving down to their end just to hear the music. The musicians were all wonderfully presented, beautifully spoken and played without effort through their time. My only regret is that they did not stay longer. "

Mikka Hendra