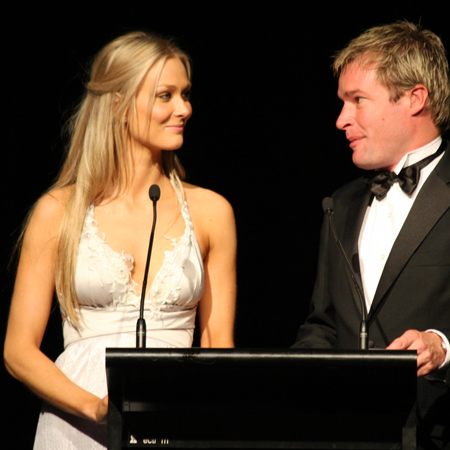 Event Host Los Angeles
Hosted large-scale soirée's addressing over 500 guests at each event
Worked the red carpet at high profile events such as the BWM Melbourne Cup
The current presenter of Arabian Golf TV and The Capital List TV
Previous clients include LG, Olay, Qatar Petroleum, Al Habtoor, Airtel...
Based in Los Angeles & available to perform at events worldwide
Event Host Los Angeles PHOTOS
Sarah got her first taste of presenting as the Sports & Weather Correspondent on the breakfast TV show, "Wake Up Perth". She soon moved up in the ranks, adding the title of Co-Host to her credit and presenting over 100 shows live-to-air.
Sarah's next challenge came at the expense of over 2,000 other hopefuls when she was awarded a place in the final four of MTV's search to find their next presenter. The journey through this process was made into a reality TV show and was hosted by Jackass star, Bam Margera. Shortly after this whirlwind experience at MTV, Sarah relocated from Perth to Melbourne and immediately began working as a presenter.
Sarah has worked the red carpet at many high profile events and parties including the L'Oreal Melbourne Fashion Festival, the BWM Melbourne Cup and Caulfield Guineas Day. She has also hosted several large-scale soirée's, addressing over 500 guests at each event, such as her continued work for the Australian Asthma Foundation, which has raised over $200,000 since its inception.
2014 – MC – Airtel Business Dubai Launch (Dubai)
2013 – MC – Qatar Petroleum Family Day (Doha)
2013 – MC – Al Habtoor Automobile Unveiling Habtoor Grand (Dubai)
2013 – Host – The Capital List TV (Abu Dhabi)
2013 – Voice – Olay Regenerist Repair Women's Event (Dubai)
2011 – MC - Day Glow International Paint Party (Miami)
2009 – Co-Host – Asthma Foundation Annual Ball (Melbourne)
2009 – MC – The Age Caulfield Guineas Day Caulfield TV (Melbourne)
2006 – Co-Host – Wake Up Perth (Perth)
2014 – MC – Emirates NBD Event Sofitel The Palm (Dubai)
2014 – MC – Dragon Boat Race Yas Marina (Abu Dhabi)
2013 – MC – Walk for Life Diabetes UAE Yas Marina Circuit (Abu Dhabi)
2013 – Host – Arabian Golf TV (Dubai)
2013 – MC - LG Smart TV Unveiling (Dubai)
2012 – MC – Apple Garden Fly or Die Events (London)
2010 – Co-Host – Asthma Foundation Annual Ball (Melbourne)
2009 – MC – Caulfield TV – BMW Caulfield Cup Caulfield TV (Melbourne
2007 – Competitor – Viva La VJ MTV Australia (Sydney)
2014 – MC – Western Union "Dreams Come True" Promotion (Dubai)