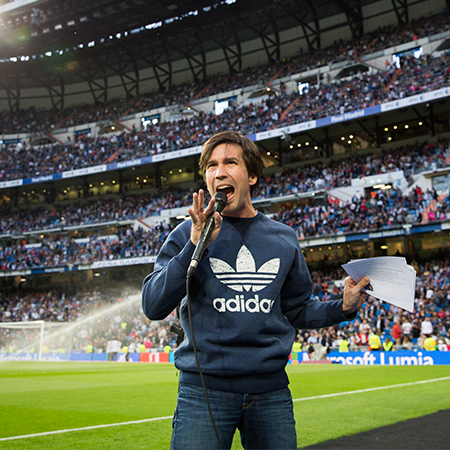 Event Host Manuel Feijoo
Spanish presenter, actor and keynote speaker well-known for his work on TV, circus and magic productions and captivating personality
Manuel is a member of the Aragón family as he's the grandson of Miliki, one of the greatest Spanish-speaking clowns of all times
Friendly and approachable, Manuel quickly connects with audiences by delivering a speech that is entertaining and compelling
Manuel is bilingual and can effectively convey a message both in Spanish and English to small and large audiences
Previous clients include Read Madrid FC, Microsoft, Coca-Cola, Bing, the Walt Disney Company, L'Oréal,  Mahou, Sanitas, etc.
Event Host Manuel Feijoo PHOTOS
Spanish event presenter, actor and keynote speaker Manuel Feijoo is well-known for his great sense of humour, renowned artistic family and long professional record on TV and events. A bilingual event host, he's fluent in both Spanish and English and can effectively communicate any message with humour and stringent professionalism. 
Member of the Aragon family and early professional experiences 
Manuel Feijoo is the grandson on Miliki, one of the greatest Spanish-speaking clowns of all times. A member of one of the most beloved artistic families in Spain, he inherited his family's passion for entertainment. 
His artistic career began back in 1996 and, ever since, he's written, created, produced and hosted a wide range of TV shows. Also an actor, he's starred in various Spanish TV shows and films. A multi-talented entertainer, his also recognised for his work as a magician, script-writer and producer. 
An experienced and bilingual event host 
A sought-after event host, Manuel has experience presenting events for all types of audiences. A versatile event presenter, he can adapt his message to families, business people, entrepreneurs, and more. Well-known for his captivating personality and tasteful sense of humour, he quickly connects with audiences and enjoys interacting with people, asking questions and making everyone part of the show!
Manuel is also a talented stand-up comedian and keynote speaker. He's participated in numerous conferences and lectures including a TEDx Talk in Seville, as you can see in the video above. His main speaking topic revolves around his grandfather (and mentor): the journey Miliki went through until he became the most famous Spanish-speaking clown in the world and how he overcame adversity in an industry with a high rate of unemployment, which can be applied to any business and entrepreneurial project. 
A natural public speaker, numerous high-end brands have trusted him to host their events. With over 1,000 events under his belt, some of his previous clients include Read Madrid FC, Microsoft, Coca-Cola, Bing, the Walt Disney Company, L'Oréal,  Mahou and Sanitas, among many others.
Check Manuel's availability for your event
If you're interested in booking Manuel for your next event, don't hesitate to contact us today to check his availability. Make an enquiry today and get a response within 24h! 
BNP Paribas
Cofares
Inditex
Mahou
Real Madrid FC
Vértice 360
Bankinter
El Ideal
LafargeHolcim
Microsoft
Repsol
and more!
Bing
IE
Luckia
Mombasa Club
Sanitas
ABC Sevilla
Coca-Cola
Ilunion
L'Oréal
RSI
The Walt Disney Company
Altadis