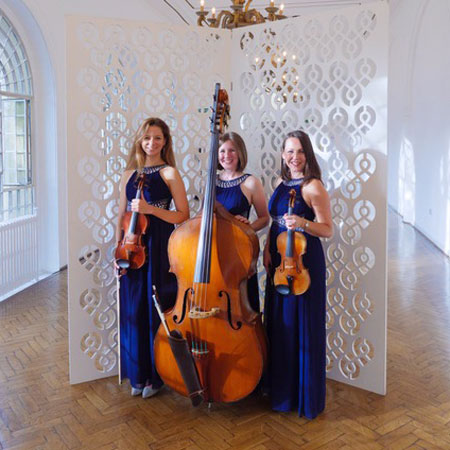 Exclusive Strings Group
Highly praised string musicians deliver exceptional ambient musical entertainment for weddings, corporate events and private parties
Available as a trio up to a quintet, they perform classical, jazz or pop music styles with new arrangement commissions on request
Performing on both acoustic and electric instruments, our female musicians can tailor their music to each event
Previous clients include Harrods, Claridges Hotel, The National Theatre, Kensington Palace & session recordings with the likes of Adele and Beyonce
Elegant, exclusive and versatile, our ensemble has a range of beautiful dresses to match the mood and style of your event
Exclusive Strings Group VIDEOS
Exclusive Strings Group PHOTOS
Book our experienced and stylish exclusive strings group; elegant, sophisticated and versatile, they are available to perform on both acoustic and electric instruments and with a lineup tailorable to your event requirements. 
With over 14 years of experience in providing first-rate live music for special events, these electric and acoustic strings musicians know how to bring the perfect musical atmosphere to your special occasion. 
Versatile Live Background Music For A Range Of Events
Available as a trio up to a quintet, our exclusive strings group can perform classical, jazz or pop music styles, from a diverse and extensive bespoke repertoire ranging from Bach to Bruno Mars and with the inclusion of a double bass which injects fantastic energy into their performance.
This elegant exclusive strings group provide live music entertainment for the most intimate of parties up to large scale events. Our group of female musicians regularly perform at corporate events, private functions, weddings and parties. They are also available for intimate recitals, themed events or a concert hall performances where they create a sophisticated atmosphere with their refined background music.
The exclusive string group offer a range of matching, elegant dress options, our female musicians' performance combines an impressive and compelling aural and visual experience, guaranteed to add the perfect atmosphere to your event.
Highly Experienced Exclusive Strings Group
Our incredible group of female musicians have a long list of high-profile clients to their name including Harrods, Claridges, Microsoft, BT, The National Theatre, Kensington Palace, Grosvenor House, and The National History Museum.
The electric and acoustic strings musicians have also performed, toured and recorded with huge names including Adele, Emeli Sande, Paloma Faith, Stormzy, Rita Ora, Lana del Rey, Take That, Mark Ronson, Rod Stewart and Simply Red. 
Book the exclusive strings group for music that combines virtuosic performance, fabulous outfits and impressive contemporary sounds - live music entertainment that is guaranteed to add glamour and excitement to your event.
To find out more, contact our team of experts today.
It's A Man's World | James Brown
Leave A Light On | Tom Walker
Let's Dance | David Bowie
Light My Fire | The Doors
Lovecats | The Cure
Love Man | Otis Redding
Lullaby | Billy Joel
Make You Feel My Love | Adele
Marry You | Bruno Mars
Moondance | Van Morrison
Modern Love | David Bowie
My Girl | Smokey Robinson/Ronald White
Night Fever | Bee Gees
One Day Like This | Elbow
Pachelbel Meets U2 | Jon Schmidt
Parachutes | Coldplay
Paradise | Coldplay
Poker Face | Lady Gaga
Rather Be | Clean Bandit
Rendez-vu | Basement Jaxx
Rolling In The Deep | Adele
Romeo | Basement Jaxx
She's The One | Karl Wallinger (Robbie Williams)
Skinny Love | Justin Vernon (Birdie version)
Smalltown Boy | Bronski Beat
Songbird | Eva Cassidy
Sound Of The Underground  | Girls Aloud
Stand By Me | Ben E. King
Summer of 69 | Bryan Adams
Sweet Child of Mine | Guns N' Roses
Sweet Dreams (Are Made Of This)  | Eurythmics
Tainted Love  | Ed Cobb (Soft Cell)
The Universal | Blur
Thriller | Michael Jackson
Time After Time | Cyndi Lauper
Toxic | Cathy Dennis (Britney Spears)
Unfinished Sympathy | Massive Attack
Uptown Funk | Bruno Mars/Mark Ronson
Viva La Vida | Coldplay
What A Wonderful World (Don't Know Much)  | Sam Cooke
Whatever | Oasis
What Goes Around Comes Around | Justin Timberlake
Will You Still Love Me Tomorrow | The Shirelles
With Or Without You | U2
You Make Me Feel | Carole King
You Really Got Me | The Kinks
Your Love Is Lifting Me Higher | Jackie Wilson
Jazz:
Ain't Misbehavin' | Thomas Waller & Harry Brooks
Ain't She Sweet | Milton Ager
At Last | Gordon/Warren (Etta James)
Cantina Band | John Williams
Embraceable You | George & Ira Gershwin
Fever | Davenport/Cooley
Fly Me To The Moon | Bart Howard
Forgotten Dreams | Leroy Anderson
The Girl From Ipanema | Antonio Carlos Jobim
I Got It Bad And That Ain't Good | Duke Ellington
I Got Rhythm | George & Ira Gershwin
It Don't Mean A Thing | Duke Ellington
In The Mood | Wingy Manone/Glenn Miller
Jeeves & Wooster | Anne Dudley
Mack the Knife | Kurt Weill
Makin' Whoopee | Walter Donaldson
Misty | Errol Garner
Moonglow | Eddie de Lange & Will Hudson
Moon River | Henry Mancini
Moonlight in Vermont | Karl Suessdorf
My Baby Don't Care | Nina Simone
Perhaps Perhaps Perhaps | Osvalso Farres
Satin Doll | Duke Ellington & Billy Strayhorn
Slap That Bass | George & Ira Gershwin
Somewhere Over The Rainbow (Eva Cassidy version) | Yip Harburg/ Harold Arlen
So Nice | Marcos Valle &Paulo Sergio Valle
Sway | Pablo Beltran Ruiz (Dean Martin)
Take Five | Dave Brubeck
The Charleston | Ma Rainey
True Love | Cole Porter
What a Wonderful World | Theile/Weiss (Louis Armstrong)
When I Fall in Love | Victor Young
Pop/Modern
All Time High | Rita Coolidge
Diamonds Are Forever | John Barry
For Your Eyes Only | Sheena Easton
Goldeneye | Bono/The Edge
Goldfinger | John Barry
James Bond Theme | John Barry
Licence To Kill | Gladys Knight
Live and Let Die | Paul & Linda McCartney
Nobody Does It Better | Marvin Hamlisch/Carole Bayer Sager
On Her Majesty's Secret Service | John Barry
Skyfall | Paul Epworth/Adele
The Living Daylights | A-HA
Tomorrow Never Dies | Crow/Froom
View To A Kill | Duran Duran
We Have All The Time In The World | John Barry
Writing's On The Wall | Sam Smith
You Only Live Twice | John Barry
Classical and Traditional:
Air on a G String | Bach
Ave Maria | Schubert
Ave Verum Corpus | Mozart
Blue Danube | Strauss
Bridal Chorus/Here Comes the Bride (processional) | Wagner
Canon | Pachelbel
Cavalleria Rusticana (Intermezzo) | Pietro Mascagni
Chanson de Matin | Elgar
Clair de Lune | Debussy
Con te Partiro | Francesco Sartori (Andrea Bocelli)
Danny Boy | Traditional
Double Violin Concerto | Bach
Eine Kleine Nachtmusik (1 – Allegro) | Mozart
Eliza Aria | Elena Kats Chernin
Gow's Reel | Trad. Scottish
Gymnopedie No 1 | Satie
Habanera (from Carmen) | Bizet
Hornpipe | Handel
Jane Maryam | Behrouz Panahi
Jerusalem | Parry
Jesu Joy of Man's Desiring | J.S. Bach
John Dunbar Theme (from Dances with Wolves) | John Barry
Largo | Handel
La Traviata (Drinking Song) | Verdi
Meditation | Massenet
Memory (from Cats) | Andrew Lloyd Webber
Music for the Royal Fireworks | Handel
Bourrée
La Paix
La Rejouissance
Miracles (Two Steps From Hell) | Thomas Bergersen
Pizzicati | Delibes
Plaisir D'Amour | Martini
Por Una Cabeza | C. Gardel
Prelude In G from Suite 1 for solo cello | Bach
Sari Gelin Folk Song | Trad. Armenian/Azerbaijani
Siman Tov | (Trad)
The Girl with the Flaxen Hair | Debussy
The Music of the Night | Andrew Lloyd Webber
The Godfather | Nino Rota
The Queen of Sheba | Handel
The Promise (Of Mist & Magic) | Michael Maas &      Christoph Allerstorfer
The Theme from 'Babe' extract from Third Symphony | Saints-Saens
Trios (various) | Haydn
Waltz from Coppelia | Delibes
Waltz No. 2 (from Jazz Suite No. 2) | Shostakovich
Wedding March (recessional) | Mendelssohn
James Bond:
Carbon Leadership
City of London
Credit Suisse
Former Prime Minister Gordon Brown
Grosvenor House Hotel
Harrods
Hilton Hotels
IPC Media
Kensington Palace
Lloyd's Building
Mandarin Oriental Hotel Group
Microsoft
News International
Porsche
Somerset House
Tate Modern
The FA
The Household Cavalry Museum
The Royal Automobile Club
V&A Museum
Wembley Stadium
...and many more!
BT
Citibank
Claridge's Hotel
European Central Bank
Fremantle Media
Hampton Court Palace
Harvey Nichols
ING
Jamie Oliver Foundation
Kensington Roof Gardens
Lord's Cricket Ground
Marriott Hotels
National Portrait Gallery
Nonsuch Mansion
RBS
Square Meal
The Dorchester Hotel
The Guildhall
The National Gallery
The Royal Exchange
Vinopolis
WestLB
Capital and Regional
" You ladies looked stunning, and your performance was brilliant. These are not just my views, other comments received from guests who were kind enough to write to me to comment on your performance include: "the entertainment was top class"; "Thanks for a lovely evening, the entertainment was brilliant" and "First class event and entertainment" "

Tanya Gardiner, Marketing Consultant - NIIT Technologies Limited
" You know when you're really excited about something and you try not to think about it because it can't possibly live up to your dreams…? Well you not only lived up to them but surpassed them! You were just fantastic and made our day! "

Glen, London, on his wedding day
" You sounded great, looked great, were easy to work with and the repertoire was perfect for the occasion "

Carys Williams, Music Administration Manager, The National Theatre
" What an evening that was, full of thrills and surprises. Such exciting and exhilarating playing. And such fun - everyone just grinned with pleasure throughout your performance. How many encores did we demand? We could have gone on and on! "

Ros Goodwin, at their public performance in Dulwich.
" The group have been the preferred entertainment in our exclusive Bobby Moore Club and have enhanced the atmosphere of the room with their music. We've enjoyed working with the group and are looking forward to having them back for coming events "

Marie Head, Event Services Manager - Wembley Stadium