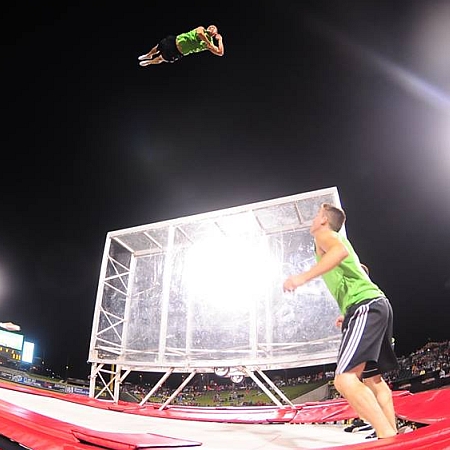 Extreme Trampoline Shows
World Class Athletes bringing the finest in extreme trampolining shows
Guinness world Record holders for the highest trampoline team bounce
Amazing acrobatic routines and flips using basketballs, snowboards, skis
Guaranteed to leave a lasting impression on any audience
Based in Massachusetts, USA and available to perform at events worldwide
Extreme Trampoline Shows PHOTOS
Extreme Trampoline Shows perform breathtaking trampoline stunts and aerial choreography. Their acrobatic routines of twists and flips are guaranteed to draw the crowds in at any event.
The group features world-class athletes who perform extreme trampoline acts for the NBA, NFL, NCAA, NHL, WNBA, campuses, fairs, festivals, parades as well as for corporate messaging, marketing, and motivational events.
Each synchronised act is provided with a high degree of difficulty, competitive acrobatic sequences and high-level proficiency with props including snowboards, skis, and balls. This athleticism as well as their comedy element also sets the Extreme Trampoline Show apart from other types of trampoline shows.
Their shows are used to kick off events, provide the WOW at major events, draw in large crowds and communicate messages in a unique way that will be noticed and remembered. The team are extremely passionate about their extreme sports and have recently broken the Guinness World Record for the highest trampoline team bounce.
Extreme Trampoline Shows can be performed with one, two, three or more trampolines and can incorporate one, two or more walls. Their experience and equipment innovation allows the team to set up a wall and two trampolines in as little as a minute and 20 seconds for basketball, and as little as one minute for football halftime shows.
Oklahoma City Thunder (NBA)
New York Knicks (NBA)
University of Virginia (NCAA Soccer)
Boston Breakers (Professional Soccer) Minnesota Swarm (Professional Lacrosse)
Boston Scientific
Armstrong
Boeing
Houston Texans (NFL)
San Jose Sharks (NHL)
Virginia Tech (NCAA Basketball)
Weber State (NCAA Football) University of Kansas (NCAA Basketball)
Sun Hung Kai Properties
SAP
Westinghouse
2012 NBA All Stars Rising Stars Game
Carolina Panthers (NFL)