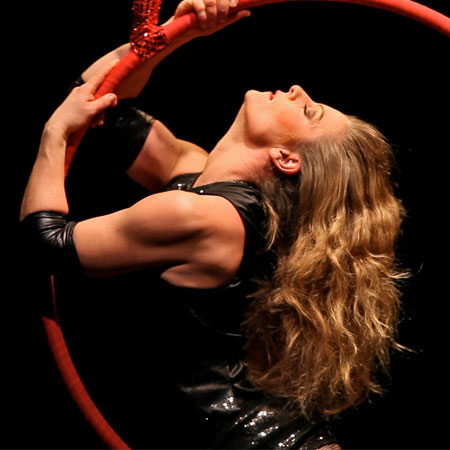 Female Aerialist Paris
Originally from Canada, this performer was introduced to her career as a professional aerialist after working as an actor at "Parc Astérix"
Going on to train at circus school, she specialised as a trapeze artist, aerial hoop performer and aerial silks act
Regularly choreographing shows for clients, our aerialist can cater to your event requirements
Previous performances include Disneyland, The Voice and The plus Grand Cabaret
Hire Female Aerialist Paris for events in Paris and worldwide
Female Aerialist Paris PHOTOS
Originally from Toronto in Canada, this performer began her career as an actress, moving to Paris to work at the amusement park, "Parc Astérix". Meeting a trapeze artist during her time there, our artist quickly fell in love with the technique and decided to pursue her own career as a professional aerialist. Training at a French circus school, she specialised in a variety of aerial techniques including aerial hoop, aerial silks, straps, web and trapeze. Achieving immediate recognition for her talent, our performer was invited to star as Jane in a production of Tarzan at Disneyland Paris. Performing for 2 years in the theatre show, she became known across France as a skilled aerialist and from there our Female Aerialist Paris became a well known face on the high end corporate entertainment sene. 
Performing as a solo artist or as part of a production, this versatile professional aerialist is happy to create bespoke choreography especially for your event. Customising her act to incorporate your chosen event theme or feature your company's branding, our flexible performer will create choreography personalised especially for you.
Acts on offer
Aerial Silks: A truly beautiful aerial discipline, the performer climbs and hangs from the ceiling of a venue from a long ribbon. Ideal for any classy function, our aerialist gracefully demonstrates eye catching postures. 
Aerial Hoop: Using a large hoop suspending from the ceiling, the aerialist creates striking shapes as she sits in the middle or hangs from the prop. 
Aerial Trapeze: The technique that brought her to circus entertainment, our trapeze artist dangles from a a swing that is hanging in the air. Incorporating lots of movement, this prop assists the artist in creating visually exciting displays.
Also able to perform additional techniques including aerial web and straps, our multi talented performer will blow your guests away with her stunning show. Regularly working with big name companies including Les Farfadais, Remue-Ménage and Les Arsonists, our aerialist is also in high demand to perform on television shows like Le plus grand cabaret and The Voice.
A circus entertainment option that is second to none, speak to our team at Scarlett Entertainment today to book Female Aerialist Paris for your event.
Remue-Ménage
Les Arsonists
Francaise des jeux
The Voice
Companies
Volte-Face
Disney
Shows
Le plus grand cabaret
Les Farfadais