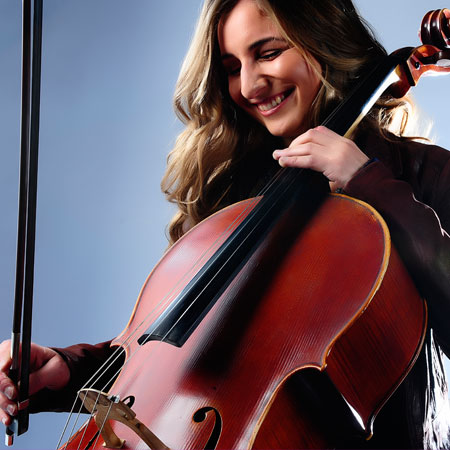 Female Cello Instrumentalist
A graduate of the Guildhall School of Music and Royal Academy of Music, our experienced cello player is a polished performer
A varied repertoire to cater to all musical tastes, our cellist can perform everything from classical to pop and is happy to learn songs on request
Experienced playing solo strings, as part of a quartet and in orchestras, our versatile musician creates a stress-free environment when she performs
Our cellist has played for events at amazing venues like Kingsweston house, Pembroke Lodge and Chelsea Physic Gardens
Book Female Cello Instrumentalist for events in London and internationally
Female Cello Instrumentalist PHOTOS
If you are looking to create a relaxed atmosphere at your special occasion, Scarlett Entertainment will help you to achieve this. An award winning entertainment agency with an extensive roster of incredible acts, our role does not stop when you book your entertainment - we will help you throughout the event, liaising with artists to ensure that your big day is totally stress free. Creating a magical environment with her beautiful solo strings performances, our Female Cello Instrumentalist is an experienced professional musician. Renowned for her enchanting personality as well as her talent, our cellist has made waves across the music industry with her spectacular live performances. A memorable corporate or wedding entertainment option, expect this cello player to leave your audience spellbound. 
After graduating with first class honours from prestigious UK and international conservatoires: The Guildhall School of Music,Royal Scottish Academy of Music and Conservatorio della Svizzera Italiana, our cellist has made a name for herself as internationally touring musician. One of the only cello players to include harmonies underneath melodies, our instrumentalist creates a rich sound, quite unlike any other cello performer in the industry. Performing a varied repertoire of every thing from classical compositions to pop covers, she can tailor her performance to suit your event specifications. Also able to learn songs on request, this personable live performer goes the extra mile to ensure that clients have the perfect entertainment for their special occasion.
Having played in large ensembles like the BBC Scottish Symphony Orchestra, as well as within a quartet, our talented cellist has now dedicated much of her time to solo strings performances. Not simply turning up, playing and leaving, this musician enjoys answering guests' questions and creating a relaxed and happy environment at events. Always appropriately dressed, she can wear long ball gowns for concerts or adapt her outfit choice to suit your event theme.
Having played at many beautiful venues including Kingsweston house, Pembroke Lodge and Chelsea Physic Gardens, as well as for numerous radio stations and television programmes, our experienced musician is in high demand to perform worldwide. A breathtaking corporate or wedding entertainment option, as well as a beautiful choice for galas and drinks receptions, Female Cello Instrumentalist will ensure your function is hitch free (unless it is a wedding of course)! Speak to our team at Scarlett Entertainment today to find out more.
Pembroke Lodge Richmond
Podium Witteman (live TV show Netherlands)
NPO Radio 4 (Holland)
Kingsweston house Bristol
Chelsea Physic Gardens
Tiende van Tijl (TV show Netherlands)
Persbericht Online Radio Festival
Manuel Valls (Prime Minister France)