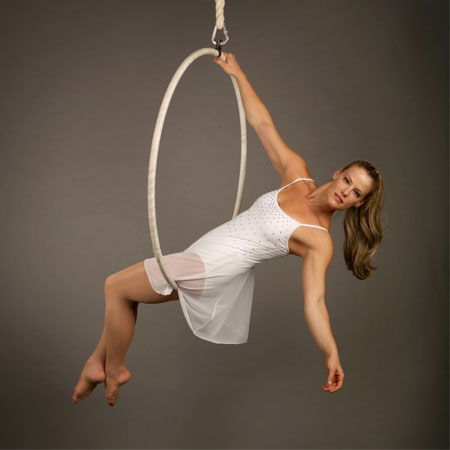 Female Circus Performer
Clean lines, incredible strength & agility create beautiful performances
Skilled performer on a range of circus apparatus
Graduate from the National Centre of Circus Arts London
Previous clients inc. V&A, Cafe de Paris & The Edinburgh Fringe Festival
Based in London & available to perform at events worldwide
Female Circus Performer PHOTOS
After an injury ended her 11 year competitive career in gymnastics, our female circus performer went on to study Circus Arts at the National Centre of Circus Arts in London specialising in handbalancing and acrobatics. A talented and skilled athlete she gives stunning performances on a range of circus apparatus incydng aerial hoop, silks, cord lisse, static trapeze and handbalance.
Clean lines, incredible strength and agility combine to create visually stunning performances that will awe-inspire audiences at any event. Since graduating she has performed across the UK and abroad for companies such as Acrojou, New London Consort, Crying Out Loud, and Dizzy O'Dare. She has also performed at number festivals including Edinburgh Fringe and Piccadilly Circus Circus as well as at events for LYRCRA, V&A, Westfield London and Cafe de Paris.
In addition to her performances for events around the world, she is also a regular teacher at the National Centre for Circus Arts on a degree programme and consultant, trainer and advisor on the BBC's 'Tumble'.
Circus Bites Albany Theatre 2014
"Dr. Clive's Circus" London 2011
"Bang Bang Circus" Edinburgh 2011
"Angels in America" Kathmandu 2011
"Migrations" London 2010
"Double Exposure" London 2010
"Gallery" Sheffield 2007
Events
Corporate dinner show The Monestary Manchester 2014
St. Ermins Hotel Christmas Party 2012
Highfield Grange Park 2011
Woodstock Hotel Show Ireland 2011
Corporate Auction ICC Birmingham 2011
"The Aeronaut" Acton 2013/2014
Proud Cabaret Tower Hill/Camden 2011/2012
The BrickHouse Cabaret London 2011
Festivals
Wilderness Festival 2013
Edinburgh Fringe Festival Edinburgh 2011
Roundhouse Turning Point Festival London 2010
Watch This Space Festival London 2010
Dinner shows
Russian Christmas Show Battersea Events Centre 2012/2013
"The Fairy Queen" The New London Consort 2011/2012/2013/2014
Clubs
Aquum 2013
LYCRA corporate commercial 2013
The Circus Dictionary 2011
Shows
"The Exhibitionists" London 2012
"Collectif and then…On a Boat" London 2011
"Kitchen Sink Circus Cabaret" London 2011
"Cirque Revolution" Tenerife 2010
"Step It Out" London 2010
"Fragments Footprints and Shadows" London 2009
The Magical Forest Village Underground London 2014
The Landmark Hotel Ballroom Christmas Dinner 2012
Westfield Shopping Centre opening Stratford 2012
Bellowhedonism NYE Royal Festival Hall 2011
McKinsey & Co Gala 2011
Visit London Awards 2010
Cabarets
"The Wam Bam Club" Café de Paris 2011/2012
"The Cabaret of Curiosities" Chatham Theatre 2012/2014
Edinburgh Fringe Festival Edinburgh 2012
Piccadilly Circus Circus London 2012
Shoreditch Festival London 2011
Latitude Festival 2010
Dickensian Christmas Show St Albans 2013
"Cirque de Noel" Bloomsbury Big Top 2010
Opera
Café de Paris 2013
Cirque Du Soir 2011
Print and Camera Work
Completely London The Happiness Issue 2012
"Dixey" Edinburgh 2014
" "[She] had us mesmerised with her extreme hand balancing" "

Jay RIchardson - EdinburghFestivals.com
" "Her hand-balancing is clear evidence of someone with a huge wealth of experience to draw on." "

Review - This is Cabaret