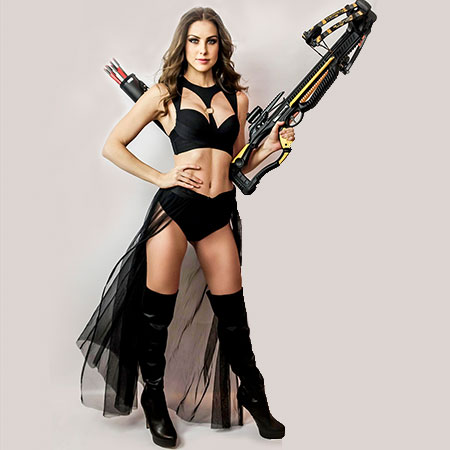 Female Daredevil
A female daredevil whose remarkable strength, agility and flexibility lead her of the world of magic
Hand picked by master illusionist Sam Powers to be his right hand assistant in Xtreme Illusions show
Travelled across Australia, Thailand, Hong Kong and Singapore with the Illusionists Live From Broadway
A stunt woman who performs a sultry and thrill seeking crossbow act that is making her Australia's most sought after illusion assistant
Based in Australia and available for worldwide bookings
A phenomenal female daredevil who was hand picked by master illusionist Sam Powers to be his right hand assistant in his most extreme illusions, the pair broke records as one of the world's fastest performers of Houdini's Metamorphosis illusion.
Since then she has gone on to tour with The Illusionists from Broadway, performing to sold out audiences all over the world. Touring alongside many international and world-renowned illusionists. Now performing as a solo act, her sultry and thrill seeking crossbow act leaves hearts in mouths as she dices with death and fires crossbows at her body! 
With a passion for performing to large audiences our stunt woman has expanded her talents and has created a brand new show that has been described as one of the most dynamic and dazzling danger displays in the world. Combining high octane routines with an unstoppable stage presence this fearless female daredevil keeps audiences engaged from start to finish.
An immensely talented performer whose breath taking pace and diverse skillset have quickly made her into Australia's most sought after lead onstage illusion assistant. 
Our outstanding female daredevil can also be booked alongside our USA Daredevil for a high-octane performance that has every gasping and gripping their seats. 
With a vampy and seductive look this top class stunt act brings an exciting element to every event and is perfect for any occasion looking to shock their guests and leave them with lasting memories!
To book our phenomenal female daredevil, or for more information – contact our Entertainment Specialists.