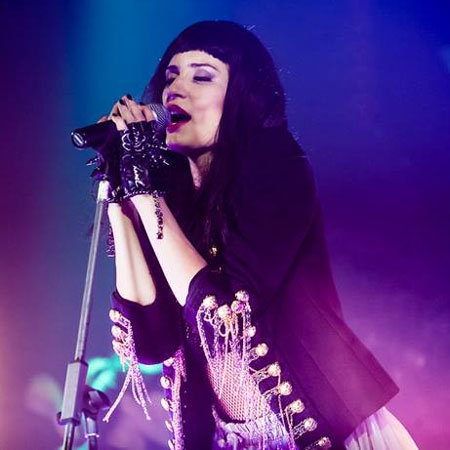 Female Electro Pop Singer & DJ
Pop singer and professional DJ provides one of a kind live music entertainment
Offers incredible stage show featuring music, video-mapping, and dancers
Can also perform as DJane providing exceptional soundtrack for occasions
Ideal for club nights, parties, festivals, corporate functions, product launches, etc.
Female vocalist available to hire for events in London and across the UK
Female Electro Pop Singer & DJ PHOTOS
If you're looking for a unique act to entertain audiences at your event with, then look no further than our brilliant female vocalist, who can perform as either a pop singer or a DJane at your special occasion. Offering fantastic live music entertainment, this talented artist will wow your guests with her high energy stage show, which features stunning video-mapping graphics and exceptional dance routines, and as a professional DJ can also provide you with a lively soundtrack for your event when not singing herself.
A larger than life character who brings passion, vitality, and creativity to every performance, our sensational pop singer is certain to liven things up at your event with her one of a kind performance. Dedicated to delivering a captivating show that will engage audiences from the very beginning until the very end, our gifted entertainer puts everything into her musical productions, ensuring that you are supplied with an extraordinary experience that will have guests talking about your occasion for a long time to come.
Performing an exciting repertoire of original and energetic songs, this accomplished female vocalist specialises in synth pop and electro pop, and is a favourite with international DJs the world over. Certain to have mass appeal at your event, our performer presents a phenomenal live stage show for guests to enjoy, with the highly engaging video mapping effects and expert choreography making for riveting viewing. Daring and different, this pop singer will bring sensuality, vivacity, and wonder to your special occasion.
Also an experienced DJane, this professional DJ will keep energy levels high at your event with her fantastic sets, perfectly setting the tone and playing the music that people want to hear all night long. Ideal for nightclubs, private parties, corporate events, product launches, ceremonies, exhibitions, festivals and more, our female vocalist is available to book for events in Barcelona and throughout Spain.
Popular with both private and corporate events, DJanes are a great entertainment option. As global specialists, here at Scarlett Entertainment we can provide such acts to perform at occasions all over the world, as well as professional pop singers, musicians, and plenty more besides. For more information on the live music entertainment we can supply for your event, contact our co-ordinators today.