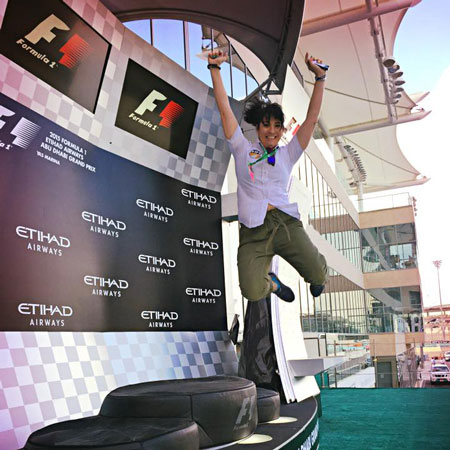 Female Host and Compere Dubai
Multi-talented event host and compere from the UK
Motorsports enthusiast and specialist in the field
Highly experienced sports commentator and radio presenter
Has worked with Formula 1, Maserati Trofeo, Aston Martin Racing and TenSports TV
Based in Dubai and available for events internationally
Female Host and Compere Dubai PHOTOS
Our multi-talented female host and compere Dubai originally comes from Aberdeen, UK where she started her career in the Royal Air Force before stepping into broadcasting and motorsports. Her passion and skill strength revolves around radio presenting and motorsports. She is an ideal event host and compere for a wide variety of events in and around Dubai using her expertise in her field. Her illustrious career in this industry makes enables her to be an exceptional MC or public speaker too. 
The Female host and compere Dubai is a highly experienced sports commentator and motorsport specialist. She became the first female pit-lane commentator at Scotland's premier motor racing circuit, Knockhill and commentated at the UK's only full sized racing oval, Rockingham Motor Speedway, as well as spending time working with the British Touring Car Championship.
After relocating to Dubai, our motorsport specialist became the first and only female racing instructor in the region. The sports commentator has made name for herself in the industry and become a well-known name in local radio, where she presented and produced both motorsports and automotive shows that ran for over 10 years. She has been a host almost every motorsport related event in the region. From the F1 Renault Roadshow to the Chequered Flag Ball. 
Other achievements include being a columnist for Wheels Magazine, a Double World Record driving a car for 24 hours with Nissan, the voice of motorsport for TenSports TV, covering a range of events MotoX to F1 and going from Pit-lane sports commentator for the ex-F1 drivers championship, Speedcar, to the lead role in the Commentary Box. Our Motorsport Specialist also took control of the first manufacturer backed championship in the Middle East, Maserati Trofeo.
The female host and compere Dubai now continues to work at major motorsport events, on radio and as a driving instructor for major manufacturers, She can easily transfer her knowledge and skills into being a top notch compere and event host so don't hesitate to contact us to book her for your event.