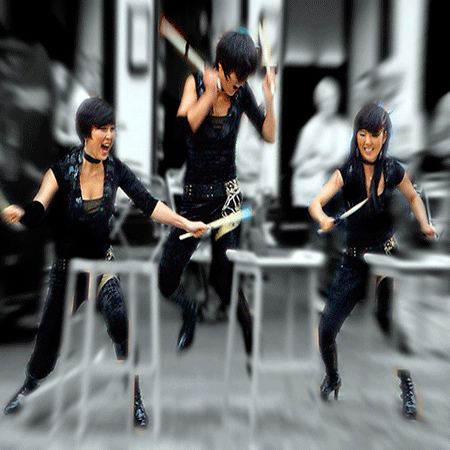 Female Percussion Group Korea
A highly talented, unique female percussion group
Dramatic, powerful and enchanting entertainment
Jaw dropping stick twirls and ingenious showmanship
Unique entertainment for product launches & corporate events in Asia
Based in Korea and available to to perform at events worldwide
Female Percussion Group Korea PHOTOS
A powerful and enchanting showmanship of female percussionists; unique not only in Asia, but also in the world. This female percussion group entertain with a stunning competitive edge in the percussion industry, balanced with a fascinating external appearance and well-fitted choreography, the group perform with unbelievable precision, speed and timing.
Beautiful girl drummers in skin-tight cat suit and hair –flickering to drumming, breathtaking bash of drums, and timely effective background music will amaze the audience throughout the entire show.
Timely effective classical and techno background music provide the perfect backdrop to the drums adding another dimension to this acts talent. The female percussion group Korea are sure to entertain your eyes and ears with jaw dropping stick twirls and ingenious showmanship.
" A whole troupe of Charlie's Angels, whose movement to the powerful drumming…A real intimacy between the performers and the audience, as if they were sharing with us some secret that was a gift. "

ThreeWeeks
" They move like lightening, sticks twirling, snare drums crackling and cymbals splashing with brilliant precision. "

The Herald