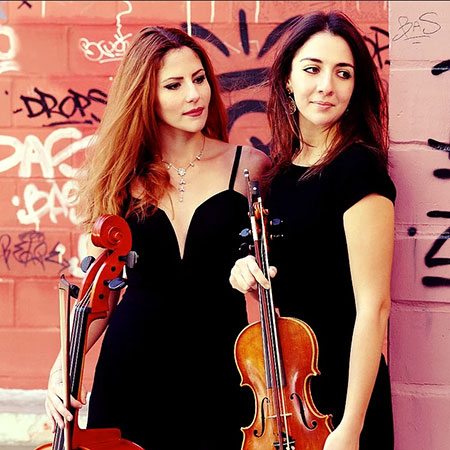 Female String Duo
Talented female string musicians play both classical music and contemporary hits
Our violinist's and cello player's extensive repertoire is fully customisable to suit your needs
Also an electric string duo that plays soundtracks like Game of Thrones theme of 'Moon River' from Breakfast at Tiffany's
Ideal live music entertainment for weddings, private parties, corporate events, exhibitions, etc.
This Female String Duo is based in Athens and available for bookings in Greece and worldwide
If you're looking for the perfect live music entertainment option for your drinks reception, cocktail lounge, gala or any other celebration, then this Female String Duo from Athens is what your event needs. Two talented female string musicians who are based in Athens, this Greek string duo is guaranteed to captivate listeners or all ages with their extensive and varied repertoire.
Our violinist and cello player joined forces to offer both classical string music and contemporary music for different occasions. They share true passion for music in general and for string instruments in particular.
This Greek string duo's repertoire is divided in classic string music and contemporary hits. Our versatile musicians can delight classical music lovers with melodies by big names like Bach, Tchaikovsky and Mendelssohn, but they also play modern sounds. Some of the pop songs and contemporary hits they usually play include 'With or Without You' by U2, 'Marry You' by Bruno Mars or 'Stairway To Heaven' by Led Zepelin, to name a few.
Their set list is fully customisable. Our Greek string duo is happy to adapt it to your specific requirements. As an electric string duo, our musicians usually amaze audiences with well-known soundtracks like Game Of Thrones theme, 'Moon River' from Breakfast at Tiffany's or 'Don't Cry For Me Argentina' from Evita. Also jazz lovers, our female string musicians can play jazz standards and Irish, folk and traditional Greek tunes.
This duo regularly performs at weddings, corporate functions, exhibitions and private parties, but they are happy to adapt their playing style, repertoire and clothing to any situation and event
Scarlett Entertainment offers a variety of live music entertainment for events in Greece and all over the world.
To book this sensational Female String Duo, contact our in-house team of Entertainment Experts today and requested further information about these female string musicians. Our coordinators will be more than happy to answer all the questions you may have.
Air From Suite in D - Bach
Barcarolle - Tchaikovsky
Canon in D - Pachelbel
Jesu Joy of man's desiring - Bach
Sleeping Beauty Waltz - Tchaikovsky
Waltz No.2 - Shostakovich
Wedding March - Mendelssohn
Pop Songs
All of Me - John Legend
Beautiful - Christina Aguilera
Can't Help Falling In Love - Elvis Presley
Celo - Piazzolla
El Choclo - Villoldo
Eleanor Rigby - Beatles
Escualo - Piazzolla
Fly Me to The Moon - Howard
Hallelujah - Cohen
Hey Jude - Beatles
La Paloma - Iradier
La Vie en Rose - Edith Piaf
Libertango - Piazzolla
Light My Fire - The Doors
Marry You - Bruno Mars
Nocturne - Secret Garden
November Rain - Guns n' Roses
O Sole Mio - Di Capua
Over the Rainbow - Arlen
Quizas Quizas Quizas - Farres
Song From a Secret Garden - Secret Garden
Stairway to Heaven - Led Zeppelin
Stand by me - Ben E.King
Strangers in the Night - Sinatra
Video Games - Lana Del Ray
What a Wonderful World - Thiele and Weiss
With or Without You - U2
Wouldn't It Be Nice - Brian Wilson
Yesterday - Beatles
Classical Music
All I Ask of You - Phantom of the Opera
City of Stars - La La Land
Don't Cry for Me Argentina - Evita
Game of Thrones Theme - Game of Thrones
Love Theme - The Godfather
Moon River - Breakfast at Tiffany's
My Heart Will Go On (Love Theme) - Titanic
Por una Cabeza - Scent of a woman
Singing In the Rain - Singing In the Rain
The Phantom of the Opera - Phantom of the Opera
​
Jazz
Black Orpheus - Antônio Carlos Jobim
Boogie Woogie - George Speckert
Got the Blues - George Speckert
Nobody Knows the Trouble I've Seen - Traditional
The Blues in St. Louis - George Speckert
The Entertainer - Scott Joplin
The Girl from Ipanema - Antonio Carlos Jobim
Tiger Rag (Hold that Tiger) - Original Dixieland Jazz Band
When the Saints Go Marchin' In - Traditional New Orleans
​
Soundtracks