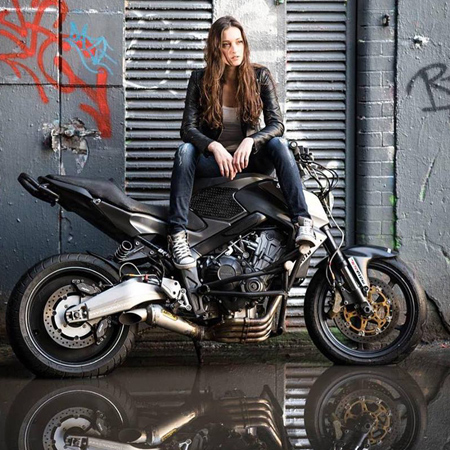 Female Stunt Motorcyclist
Rare female stunt motorcyclist for out door events and stunt double hire
Perform crazy stunts and also rides her stunt motorbike standing on the petrol tank.
Our London based stun rider is fantastic for film and product launches
Previous clients include BEXHILL MotoFest
Our stunt rider available to hire for events in London and across the UK
Female Stunt Motorcyclist PHOTOS
It is extremely rare to find a motorcyclist stunt rider who is female, and our Female Stunt Motorcyclist UK is one of the best! She has entertained spectators from all over the world with her mad skills and extreme bravery. Based in London, our stunt rider is the perfect choice when it comes to wowing audiences with motorcycles with style. With her elegant and stylish riding style, Female Stunt Motorcyclists UK will blow the socks off your event attendees with her impressive tricks and her insanely cool motorbike. 
Watch as our Female Stunt Motorcyclists UK wheelies whilst standing up, rides backwards and performs burnouts all over the tarmac at your event. Our stunt rider is consistently pushing the boundaries when it comes to tricks and skills on a motorcycle. This London based stunt rider will perform no-handed tricks, burnouts, stoppies, wheelies, and other stunts including jogging next to it as she makes the motorcycle roll down the road without a rider to steer it. 
Our female stunt rider also boasts an impressive 32,200+ social media following who travel to see her at a range of events. She has previously entertained guests at BEXHILL MotoFest where she received an outstanding reception. 
Top Tip:
Our Female Stunt Motorcyclist UK can also be hired with a male rider as a motorcycle stunt riding duo.
Can be hired as a motorbike stunt double act. 
Our London based female stunt rider is an impressive stunt show, perfect for product launches, outdoor entertainment and street shows. 
Scarlett Entertainment boasts a huge range of exciting of Stunt Acts that are available to hire across the globe and in the UK and London.
If you would like to hire our Female Stunt Motorcyclist UK to perform at your event, then please get in touch with one of the Scarlett Entertainment team who will be happy to help.