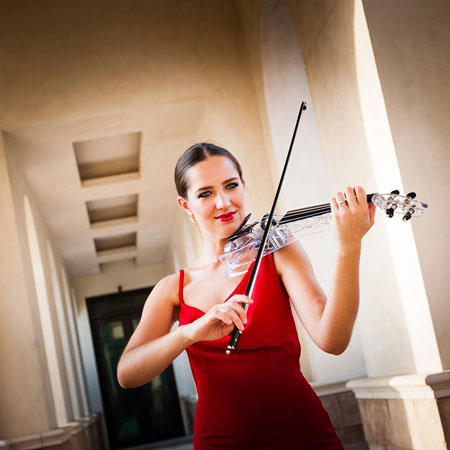 Female Violinist Abu Dhabi
Stylish and very glamorous classically trained female violinist originally from Poland
Exceptional musician will serenade your guests with the soothing sounds of the acoustic or electric violin
Specialising mostly in weddings, this amazing violinist will add a beautiful ambience to your big day
Experience at luxurious hotels in the Middle East and big events such as award ceremonies, Formula 1 and Royal weddings
Based in Abu Dhabi and ideal for high-end events and weddings in luxurious settings throughout the Middle East and worldwide
Female Violinist Abu Dhabi VIDEOS
Female Violinist Abu Dhabi PHOTOS
Clients looking for luxurious live music by an extremely talented young female musician will be impressed by our Female Violinist Abu Dhabi. This exceptional female musician will serenade your guests with the soothing sounds of the acoustic or electric violin. She is perfect for anyone looking to hire a violinist in the UAE and offers and range of musical genres including pop, house, jazz and classical. 
Our Female Violinist Abu Dhabi is classically trained with a Master's degree in music. She has experience working in various orchestras, ensembles and as a soloist all over Europe and China as well as on American cruise ships. The stylish and very glamorous violin player is originally from Poland and now based in Abu Dhabi. Since being in the Middle East she has been a sought after female violin player for a variety of events ranging from glamorous private dinner for Luis Vuitton VIPs to royal weddings, a lot of Emirati weddings. 
The talented female musician's other notable events include the Abu Dhabi Fashion Weekend, Formula 1, The TAFI Abu Dhabi Convention, Espression Khalifa City opening party, Canadian University Dubai Graduation Ceremony in presence of His Highness Sheikh Nahyan bin Mubarak Al Nahyan and the Book Awards Grand Ceremony in presence of His Highness Sheikh Hazza bin Zayed Al Nahyan.
Speak to us if you are looking to hire a violinist in the UAE, or anywhere around the world, whatever the occasion. Our team will be more than happy to help you book this excellent violin player for your live music.