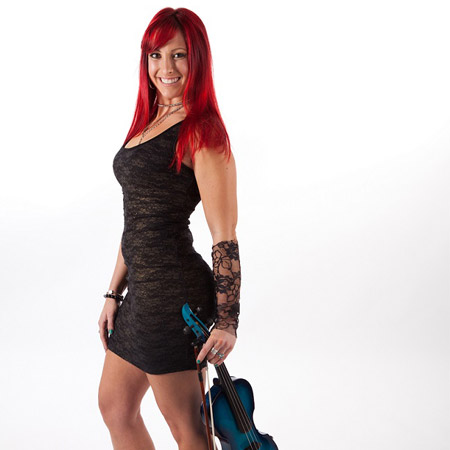 Female Violinist Beijing
Beautiful and stunning female violin player skilled in classical and electric.
Incredible live music show featuring covers of Owl City, Coldplay, AC/DC, Neon Trees, and more.
Fantastic female violinist can perform solo or with a rocking cover band.
Perfect violinist for private parties, receptions, weddings, corporate functions, club shows, etc.
Electric violin performer available for booking throughout China and worldwide.
Our fantastic female violin player is bound to be a big hit with your guests at your upcoming special event or gathering, as our brilliant and talented female violinist provides an outstanding live music show with her handy electric violin sidekick. Providing live music entertainment that can be enjoyed by everyone, our skilled violinist will create an amazing stress free atmosphere that will keep your guests engaged and entertained throughout her electrifying performance. Our female violin player offers her distinctive sound and wonderful string arrangements of popular songs, and will surely provide your event with a "wow" factor quality.
Bound to have mass appeal at your special occasion, our talented female violinist will deliver her large repertoire of popular hit covers, some of these songs included are "Yellow" by Coldplay, "Back In Black" by AC/DC, "Everybody Talks" by Neon Trees, and Macklemore's "Thrift Shop," to name just a few songs that can be included in our wonderful violinist's live music show. Creating an epic soundtrack for your special occasion, our female violin player is a master at the electric violin but can also perform using the classical instrument, putting a few unique twists on the songs she performs.
A highly versatile female violinist, our electric violin performer is available in a variety of options that will help your event skyrocket to the top, included in these packages is either a solo performance by our exceptionally skilled female violin player, or you can couple her unique talents of knowing an abundance of popular hit songs and put her on stage with a rocking cover band, creating an even fuller and wilder musical act that will keep your guests on their feet. Our violinist can perform a maximum of four 45 minute sets a night, and is the ideal option for private parties, weddings, festivals, club shows, receptions, gala dinners, and more.
Contact any of our amazing Scarlett Entertainment team members if you are interested in booking our wonderful and beautiful female violin player for your upcoming special event or gathering.
A Long Walk
Ai Se Te Pego
Ain't nobody
All I Want For Christmas Is You
All That She Wants
Alors Ons Danse
American Boy
Angel
Another Brick in the Wall
Another One Bites The Dust
Auld Lang Syne
Autumn Leaves
Back In Black
Bailando
Bang Bang
Bara Bara Bere Bere
Beat It
Bendera
Best Friends Girl
Black & White
Blurred Lines
Call Me Maybe
Calle Ocho
Can't Stop Til You Get Enough
Celebration
Chasing The Sun
Cheerleader
Come Together
Could You Be Loved
Counting Stars
Crazy In Love
Crossroads
DanzaKuduro
Diamonds (Kizomba)
Last Christmas
Lean On
Let Her Go
Let It Rock
Let Me Blow Your Mind
Let's Go
Let's Hear It For The Boy
Like A Prayer
Little Apple
Live While We're Young
Loca
Locked Out Of Heaven
Love Never Felt So Good
Love On Top
Love Shack
Love Stoned
Lovely Day
Magic
Mary Had A Little Lamb
Mercy
Mission Impossible Theme
Mr.Saxobeat
Ms Jackson
On The Floor
One More Night
One Way or Another
Oplosan
Oye Coma Va
Paper Planes
Party Rock
Price Tag
Princess Of China
Problem
PYT
Rapper's Delight
Rather Be
Rehab
Respect
Roar
Rock Steady
Stay With Me (Kizomba)
Sugar
Suit & Tie
Superstition
Take Back The Night
Take On Me
Talk Dirty
The Fox
The Way You Make Me Feel
Thinking Out Loud
Thinking Out Loud (Kizomba)
This Love
Thrift Shop
Thriller
Tightrope
Tik Tok
Timber
Trap Queen
Treasure
Troublemaker
Where Have You Been?
While My Guitar Gently Weeps
Whine Up
Wonderwall
Work B*tch
Worth It
Wrecking Ball
Yellow
YMCA
What Makes You Beautiful
Where Are Ü Now?
4 Minutes
Diamonds Are Forever
Domino
Don't Speak
Don't Stop Believing
Don't Stop The Party
Don't You Worry Child
Doo Wop (That Thing)
Earned It
Empire State Of Mind
Everybody (Backstreet's Back)
Everybody Talks
Everyday I Have The Blues
Everything
Family Affair
Feel So Close
Feel This Moment
Fine China
Fire
Frontin'
Game Of Thrones Theme
GDFR
Gentleman
Get Lucky
Get The Party Started
Give Life Back To Music
Glad You Came
Gone Gone Gone
Good Time
Goyang Dumang
Hangover
Happy
Hard To Handle
Hero
Hey Ya
Hips Don't Lie
Hit Em Upstyle
Holiday
Hotel California
Hotel California (Kizomba)
Hotel Room Service
I Can't Feel My Face
I Love It
I Love Rock & Roll
I Need Your Love
I Put A Spell On You
I Will Survive
I'm A Believer
If I Aint Got You
In My Place
In the Air Tonight
In the End
It's My Life
James Bond 007 Theme
Jump Around
Just Friends
Just The Way You Are
Kashmir
Killing Me Softly
Kingston Town
La Vida Loca
Land Down Under
Rock the Casbah
Rock With You
Rodeo Clowns
Rolling In The Deep
Roxanne
Royals
Rude
Rude (Kizomba)
Rude Boy
Salome
Scream & Shout
Secrets
See You Again
September
Sex On Fire
Sexy & I Know It
Shake It Off
Shy Guy
Single Ladies
Skyfall
Slow Dancing in a Burning Room
Smooth
Smooth Operator
Someone Like You (Kizomba)
Song 2
Starships
Stay With Me
Tub Thumping
Turn Up The Love
Umbrella
Unfaithful
Uptown Funk
Valerie
Viva La Vida
Wake Me Up
Walking On Sunshine
Wannabe
Want U Back
Want You To Want Me
Watch Me (Whip Nae Nae)
We Found Love
We Will Rock You
Diamonds (TMG Remix)