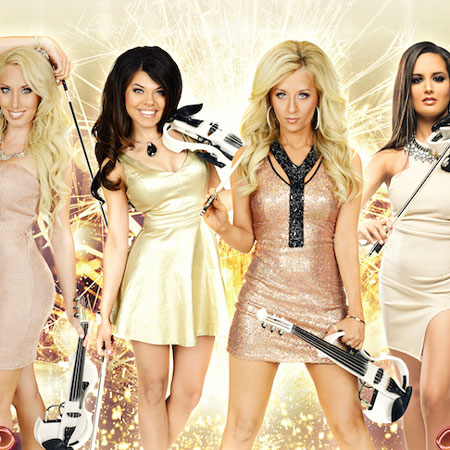 Femmes of Rock
Femmes of Rock boasts a high octane show that fuses electric strings with rock music, glamour and killer outfits
Perform all new arrangements of classic rock hits as well as original music
Our electric strings quartet are accompanied by a live rock band, state of the art sound and lighting production and slick choreography
Perform the music of Led Zeppelin, AC/DC, Pink Floyd, Queen, Lynyrd Skynyrd, Metallica, ELO and much more
Based in Las Vegas and available for worldwide bookings
The fabulous Femmes of Rock takes electric strings to a whole new level. Offering a high-octane show comprised of all new arrangements of classic rock hits, as well as original material, our ladies are accompanied by a live rock band, state of the art sound and lighting production and precision choreography.
Clients can choose from a stunning array of costumes and request a tailor-made set list to ensure the perfect soundtrack performance for your event. Our female string quartet perform the music of Led Zeppelin, AC/DC, Pink Floyd, Queen, Lynyrd Skynyrd, Metallica, ELO and much more.
Our fantastic electric string quartet's high-energy show is guaranteed to leave audiences completely awe-struck! Be prepared for something truly special with this electric strings quartet.
Made up of the most elite and hottest female string musicians, Femmes of Rock is capable of being anything from a two minute wow factor show to background dinner music, full 90 minute powerhouse show with all the production from video to lasers, choreographed dance moves, wardrobe changes and more. 
Performing rock music as well as their own this electric strings quartet is a must see and is an incredibly popular entertainment trend for a wide range of events. Having toured all throughout the US, selling out venues and growing a fan base, this fabulous female string quartet boasts rock music and corporate entertainment that leaves every guest wanting more. 
Available with three or more musicians for their backing band for larger events as well as a drummer and quartet line up and just the female quartet with backing tracks for smaller events - Femmes of Rock has a line up for every event and can adapt their performance to suit your event perfectly. 
With years of experience performing shows for corporate entertainment and clients our female string quartet is capable of making your event entertainment as custom as you desire and can create custom music content, custom video content and edit their rock music to fit a video or speech by your company. 
Boasting exceptional corporate entertainment and rock music this female string quartet are the perfect artists to work with and have previously worked with artists such as David Foster, Beyonce, Stevie Wonder, Rod Stewart, Billboard Music Awards, the Grammys and more. 
To book our Femmes of Rock or for more information about booking an electric string quartet to perform rock music at your event, contact our helpful team of Entertainment Specialists today.
Chicago Science Museum
Disney
Las Vegas Natural History Museum
Teamsters
...and many more!
Acura
Clayton Homes
Lake Havasu Hospice
Synnex
YMCA
Atlantis Bahamas
" What do you get when four incendiary violinists take the stage to perform the greatest rock songs of the 20th century? One of the best rock shows you'll ever experience! To put it simply, these string musicians rock! These lovely ladies put on an explosive, high-energy concert from start to finish that left the audience begging for more "

Shawn Lasouceur - Director of Marketing at EKU Centre for the Arts
" What more can I say? They absolutely ROCKED!! Our guests were all saying the same thing – "Best Concert We've Ever Seen! "

Matt Costa - Events and Entertainment Coordinator at Silver Reef Casino
" People are still talking about that show a year later. It was beyond our wildest expectations "

Barbara Horan - The Texan Theatre
" Are you kiddin' me? These girls completely killed tonight! They are a COMPLETE show...incredible talent, a fabulous set list, and of course, an amazing look! I cannot wait to have them back! "

Ron Onesti - President/CEO The Onesti Entertainment Corporation