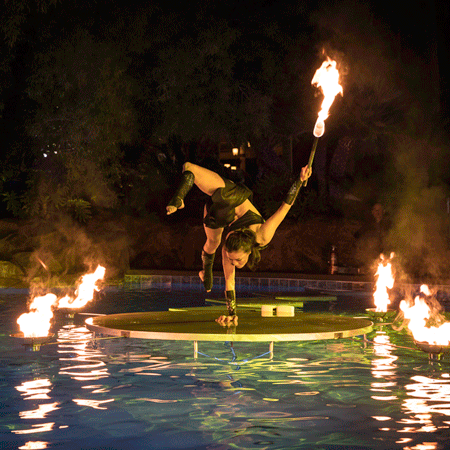 Fire Contortionist
A world class contortionist who has travelled all over the world showcasing her exceptional flexibility, strength and balance
Having performed for over 10 years in Cirque Du Soleil this world class circus performer is highly trained in a range of acts
With over 18 years of experience our fire contortionist has performed in excess of 3,500 shows all over the world
Co-Creator, Choreographer and Coach for a 9-girl Contortion Act that won a coveted Bronze Clown at the Monte-Carlo Circus Festival
Based in Las Vegas and available for worldwide bookings
Fire Contortionist PHOTOS
A world class contortionist who has honed her skills in many different areas of contortion and performance has created a thrilling fire contortion performance that blends her exceptional talents as a contortionist with a daring fire act to make one brilliant routine that is mesmerising to witness. A circus performer who has an extensive background in performance, our contortionist has travelled all over the world, performing remarkable contortion acts to thousands of audience members.
Having performed for over 10 years in Cirque Du Soleil with three and a half years being apart of the Water Bowl Contortion Act in Cirque Du Soleil's Zumanity Las Vegas Production as a duo or solo as well as performing as a contortion act in Cirque Du Soleil's 'O' production. A performer who became the first Cirque Du Soleil artist to work two show simultaneously, our exceptional circus performer worked in both Zumanity and 'O' at the same time!
Our contortionist also performed for the Mongolian State Circus as part of a 4–girl contortion act at the sixth 'China Wuqiao International Acrobatic Festival' in Hebei, China. The group act was awarded the 'Silver Lion Prize.
Combining fire with contortion this exciting performer heats up every event as she elegantly moves in and out of awe inspiring hand balances and bends whilst dancing with fire!
In addition to performing with fire our contortionist can be booked for any themed occasion, with an act that is easily customisable and can tailored to suit any colour scheme or theme, providing stunning event entertainment. Having performed more than 2,000 shows for Cirque Du Soleil as well as an excess of 3,500 shows in nine countries around the world, our contortionist boasts entertainment of the highest calibre.
To book our exceptional fire contortionist contact our Entertainment Specialists, or to see more of our contortionist, visit our Event Contortionist page.