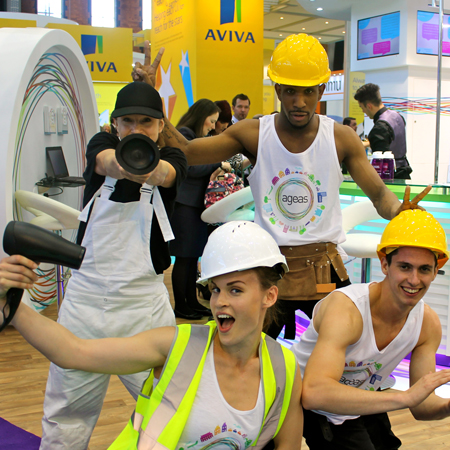 Flashmob Dancers UK
Fantastic flashmob dancers to perform electrifying spontaneous dance routines at events
Brilliant dance flashmob perfect for drawing crowds and creating buzz at corporate events, promotional events and trade shows
Talented surprise dancers can perform in a range of styles, from hip hop and breakdance to Charleston and ballroom
Professional and flexible dance show has been used at events for Sky TV, Vitol, Playtech and many more
Fun and vibrant UK based flashmob available worldwide
Flashmob Dancers UK VIDEOS
Flashmob Dancers UK PHOTOS
Book these fantastic flashmob dancers for a thrilling and colourful dance routine that will really draw the crowds at any event. Our amazing dance flashmob is perfect for creating an exciting buzz at all kinds of events with their spontaneous dance routines, and our talented dancers are sure to impress viewers with their dazzling choreography.
Our fabulous surprise dancers can perform in a huge range of styles to suit any event and theme, offering high quality break dance, ballroom, 70s disco and Charleston dance routines among many others. Guests will be delighted when this flashmob break into a fabulous, expertly choreographed routine in the middle of your event, and their electrifying impromptu show is perfect for drawing the crowds at corporate events, trade shows, fairs and festivals. Book our brilliant surprise dance show for a fantastic act that will liven up any event.
Our amazing dance flashmob are just the thing for turning any event into a lively and fun filled dance spectacular. Our flashmob dancers will mingle with your guests disguised as waiters or business delegates before bursting to incredible high energy dance routines when the music starts.
These adaptable surprise dancers can perform their exciting routines in colourful costumes hidden beneath their normal clothes and this works especially well for displaying your company logo or advertising. This flashmob is perfect for drawing crowds at trade fairs, product launches and corporate events and will generate a real buzz for your company. 
Our dance show can be performed in a great range of contemporary and classic dance styles to suit any occasion. Sky TV, Playtech, Vitol and many more companies have used our fantastic dance flashmob at their events and their stylish, slick routines never fail to impress. 
Scarlett entertainment offers you a great choice of flashmob dancers for events and fairs around the world.
Contact our expert team to arrange booking.
Ageas Insurance
Playtech
Sky Now TV