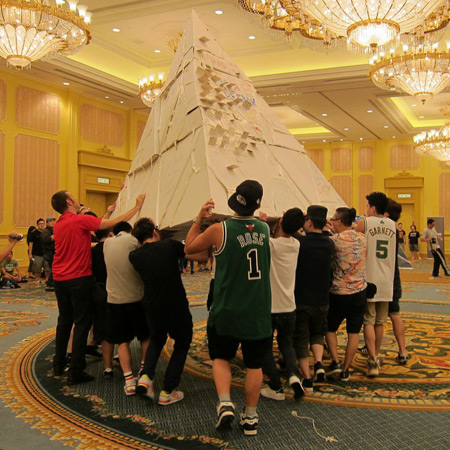 Flat Out Pyramids
The sky is the limit when teams realise the power of working together
A reminder that they can achieve and create something amazing
Individual pyramids are brought together to form a giant shared pyramid
The pyramid stands tall as a reminder of the power of working to a goal
Based in Hong Kong and available to perform at events worldwide
In ancient Egypt a pyramid was much more than a building; it was a symbol of man's ability to overcome the odds and create a magnificent structure that would stand the test of time. Flat Out Pyramids gives teams the opportunity to work together to achieve great things. The activity offers many challenges to any group.
In addition to the construction part of the exercise, teams overcome problem-solving elements, network on many levels and express themselves creatively. From the opening brief, participants assume they are competing to create small pyramids. As the activity progresses the teams realise that through working together they can create something truly impressive.
Accuracy ensures that the small pyramids all fit together into a giant pyramid, bringing home the message that the integrity of the whole is dependent on the integrity of the parts. The final construction can be decorated to reinforce awareness of conference and company messages. It stands tall as a reminder of the power of working to a common goal.
Ci Events
GVST Event Management
Luminous
Messe Frankfurt
Reed Exhibitions
Banking Financial Services & Accounting:
Allianz Global Investors
AXA
BNP Paribas
BOC
Clerical Medical
CITI
DBS Bank
Deutsche Bank
Auchan
Coca-Cola
Elsevier
LSG
Montblanc
Philips
SONY
Triumph
High-end fashion and Lifestyle:
Coach
GAP
Hugo Boss
ImagineX
Kerring
Navalus
Air New Zealand
Destination Asia
Fortune Travel
Global Travel Services
IHG
JW Marriott
Logistics:
Brink's
CSAV
FedEx Express
Kroll
Advertising Event Management and Marketing:
DDB
Jack Morton
MCI Group
Quadrant
ACE Insurance
American Century
Barclays Capital
BNY Mellon
Calyon
CLSA
Credit Suisse
Deloitte
DHR
Consumer:
Asia Pacific Brewery
Danone
Fonterra
McDonald's
Pepsi
P & G
Starbucks
Chanel
Dior
Givenchy
Ikea
Joyce Boutique
Lane Crawford
Tiffany & Co
Hospitality and Travel:
BP SHA
Eaton Hotel
Frasers
Hilton Singapore
Intercontinental Hotel & Resorts
Bernhard Schult Ship management
Cargotec Asia Ltd
Expeditors
HIT
Kuehne + Nagel
And Many More
Bing Corporation
" The activity is inspiring and really demonstrated what having a common goal and effective communication and collaboration can do. There was lots of good discussion during the debrief which provided some insights and action points that was immediately applicable back at the workplace. "

Johnny Song, General Manager, Abbott Laboratories China
" The activities provide our participants professional team building experience. It's so enjoyable and interactive. The facilitators are so passionate and enthusiastic. We are delighted to receive such innovative training. "

AIESEC in Hong Kong
" We have used these workshops several times and all events have been very successful. They have always been very professional and the events we have undertaken achieved their goals. "

Robin Parbrook - Head of Asia Equities (Former CIO) Schroders Investment Management (HK)
" Team building activities were fun-filling and simulating. Promotes creative thinking. "

Dave Tan Hun SiongLam research
" Flat Out Pyramids did an excellent job to motivate our team. "

Dorothy Yip - Executive Secretary, HSBC Insurance