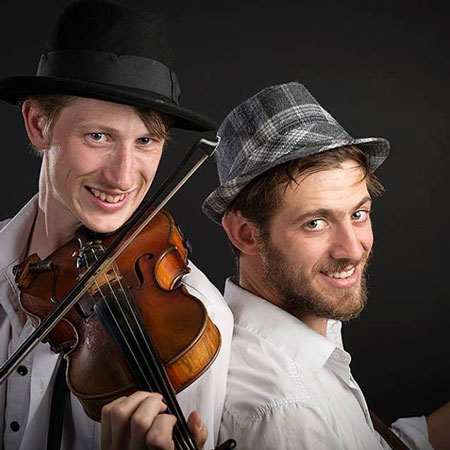 Folk Party Covers Band France
Incredible party band performing upbeat covers filled with high energy
Amazing live music show comprised of renowned musicians
Cover band provides memorable live entertainment
Ideal party musicians for weddings, drink receptions, gala dinners, themed events, etc
Cover performers available for booking throughout France
Folk Party Covers Band France PHOTOS
Book our eccentric party band, as our professional and exquisite party musicians are certain to capture attention with ease at your upcoming special event or social gathering. Delivering a dynamic and upbeat live music show experience, our cover performers will perform a variety of high energy cover tunes including, "Get Lucky" by Daft Punk, "Wake Me Up" by Avicii, "Fly Away" by Lenny Kravitz, and "Knocking On Heaven's Door" by Bob Dylan and many more. Providing a fresh take on the music of today, our cover band will also perform an assortment of songs in Spanish and French.
Never stopping the music, our energetic party musicians will constantly move throughout their live music show experience, to ensure your guests are filled with energy and constant investment. Our incredible party band have performed at a multitude of special events to raving audiences, courting them with upbeat personalities. Our musicians share a unique passion for music, as our cover band and cover performers are also able to adapt their phenomenal live performance to compliment an array of different event themes and style guidelines.
Full of high energy and upbeat qualities, our skilled party musicians will help create a special event you can be proud of and is not easy to forget. Instantly becoming a talking point among your guests for weeks to come, our talented party band will ensure your event is filled with immersive experiences with their captivate live performance that will keep your guests dancing all night long. Sure to leave lasting impressions, and leave guests with unforgettable memories, our cover band are ideal for private parties, corporate functions, theatre performances, family days, gala dinners, drink receptions, wedding receptions, and more. 
If you're interested in booking our remarkable party band for your upcoming special event, contact anyone of our excellent Scarlett Entertainment team members who will be more than happy to assist you.
Like A Hobo (Charlie Winston )
Get Lucky (Daft Punk)
Wake Me Up ( Avicii / Aloe Black)
Stand By Me
Sexy And I Know It ( Lmfao)
Knocking On Heaven's Door ( Bob Dylan)
Sweet Dream ( Eurythmics)
Lili (Aaron)
Freed From Desire (Gala)
Fly Away ( Lenny Kravitz)
Following My Life ( Original )
La Bamba
Clandestino
Save Tonight (Eagle Eye Cherry)
C'est Quand Le Bonheur (Cali)
Je Veux Du Soleil (Au P'tit Bonheur)
Déjeuner En Paix (Stephan Eicher)
L'amitié ( Original )
Une Histoire Est Née ( Original )
Elle M'a Dit (Cali)
L'hymne De Nos Campagne (Tryo)
Mama Sam (M)
Je M'en Vais (Miossec)
Papaoutai (Stromae)
Nathalie ( Original )
Réussite Social ( Original )
J'en Ai Marre ( Original )
Est-ce Que C'est Ça (M)
Le Vent L'emportera (Noir Désir)
The Common Room
Golden Down The French Corner
Waiheke Jazz Festival
The Lumsden
Auckland International Culture Festival