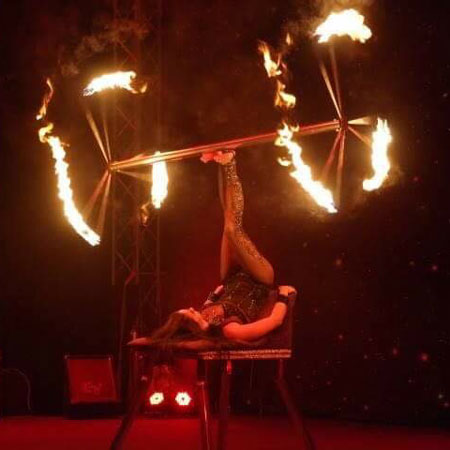 Foot Juggler Italy
Incredible foot juggling act delivers a unique and eye-catching performance.
Astonishing foot juggler will perform unbelievable juggling and balancing tricks- all with her feet!
High octane juggling act features breathtaking skill, sensual costumes and electrifying music.
For an impressive and dramatic circus act our juggler can even perform with flaming props.
Stunning and original circus show available for performances worldwide.
Foot Juggler Italy PHOTOS
Book this astonishing foot juggling act for an original and captivating performance at your event. Our incredible foot juggler performs the most amazing juggling routines you've ever seen, all with her feet! Guests will be amazed at this juggling act which is sure to give audiences anywhere something they've never seen before. This unique and visually stunning circus act is perfect for entertaining guests at cabaret and variety shows, circus nights and corporate parties. Book this extraodinary circus show for the most dazzling and creative juggling act on the market.
Our amazing foot juggler will amaze your guests with her foot juggling abilities, displaying dexterity and skill that need to be seen to be believed. Guests will go wild for this incredible juggling act as our talented performer balances upside down on a chair with her feet in the air, deftly throwing footballs and other props from foot to foot in a breath-taking and unbelievable performance.
Our ingenious juggler has amazed audiences in circus shows across Italy including performances with the renowned Cirque Eloize. Forget the boring juggling acts you've seen a million times before- this foot juggling act creates a stunning and high impact circus show with her sensual costumes, exhilarating music and remarkable foot juggling skill. For the ultimate show stopping spectacle she can even perform her daring circus act with huge flaming wheels for an intense and unforgettable performance. For a spectacular circus act that's sure to amaze any audience don't miss the chance to book our sensational foot juggler. This original and high octane act is sure to leave a big impression like no other juggling act on the market.
Scarlett Entertainment offers you a huge range of incredible circus acts from jugglers and stilt walkers to stunning aerial acrobats and much more. Contact our expert team and let us find the right act to suit your event.