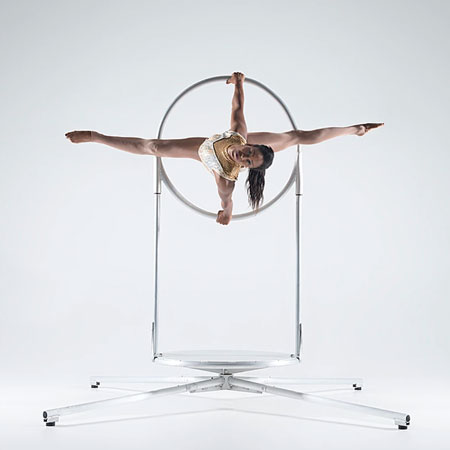 Freestanding Aerial Hoop Act
Stunning Freestanding Aerial Hoop Act boasts unforgettable event entertainment
The perfect solution to any event desiring an event aerialist without the need for beams and rigging points
Can perform in almost every venue due to easy set up and minimal logistics
Also available as Boleadoras performer, Bombo/Argentinian Drum act, fire/LED and French Canadian Tap Dancer
Based in Berlin Germany and available for worldwide bookings
Freestanding Aerial Hoop Act PHOTOS
Performing stunning aerial routines this Freestanding Aerial Hoop Act is a delight at all events as our hoop aerialist weaves in and out of her hoop, forming beautiful shapes with her body and creating captivating moments with her choreography.
The perfect solution to any event desiring an event aerialist without the need for beams and rigging points this hoop aerialist is a delight at every occasion and creates the atmosphere you are after without the stress of setting up for an aerial performance that may not be possible in your chosen venue.
Available as an aerial show that is designed for maximum impact and performed specifically to a chosen track as well as shorter more ambient performances that help set the tone at your event and entertain your guests all through the night with dazzling aerial displays.
Top Tip:
Our hoop aerialist can customise every performance to suit the tone of your event whether you want a routine performed to a specific track or you desire a softer more ambient show, our Freestanding Aerial Hoop Act can make your vision a reality.
With a range of different costumes available our event aerialist can adapt her look to compliment your chosen colour scheme and theme making for custom event entertainment that is a guaranteed hit at every event.
Boasting a performance packed with raw talent and dynamic choreography this experienced hoop aerialist is multitalented and can be booked for a range of different event entertainment options from Boleadoras to Bombo/Argentinian Drum, fire/LED, French Canadian Tap Dance Shows and more. 
This remarkable performer is a delight at every event and is dedicated to creating unforgettable memories at your event with her stunning Freestanding Aerial Hoop Act and other high impact performances.
To book our Freestanding Aerial Hoop or for more information, contact our Entertainment Specialists today.