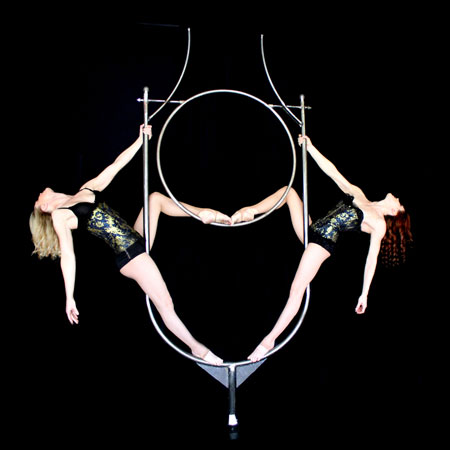 Freestanding Aerial Hoop USA
Sensational and mesmerising acrobatic and aerialist entertainment
Freestanding rig can be used in more locations that usual aerial performances
Sophisticated and captivating aerial performance
Elegant entertainment for VIP parties, after dinner shows, up market social and corporate events
Based in Las Vegas and available throughout the US
At Scarlett Entertainment we're here to help you find outstanding entertainment that will make your event stand out above the rest and give the guests not only a wonderful experience, but something they will be able to look back on fondly. Aerial acts are a fascinating, sophisticated and elegant form of hybrid circus entertainment that brings a touch of class to any event and guarantees to become a focal point at any event. 
Our Las Vegas based aerial act is everything you ever possibly want of an aerial hoop performance but more versatile than most. The advantage these aerialists have is that they come with a completely freestanding rig unlike most aerial acts that require winches and high ceilings. The very visually pleasing and unusually shaped rig is completely freestanding and has a rotating base. It can be set up in venues that wouldn't normally accommodate aerialists. 
The freestanding rig can accommodate an aerial hoop show with either one or two aerialists. Elegantly clinging to the freestanding rig, the aerial hoop act sees the performers manoeuvre around the frame in a routine of contortion and balance. Its is an incredible alternative form of circus entertainment that makes a fascinating focal point for a diverse range of events.
This sensual aerial act is perfect for wowing guests at private and VIP parties, after dinner shows, up market social gatherings and impression making corporate events. It is available for short shows or ambient performances and you may have the aerialists dressed in costumes to suit the event.
To book the aerial hoop act, contact our team of Entertainment Specialists who will be more than happy to answer any questions you may have.