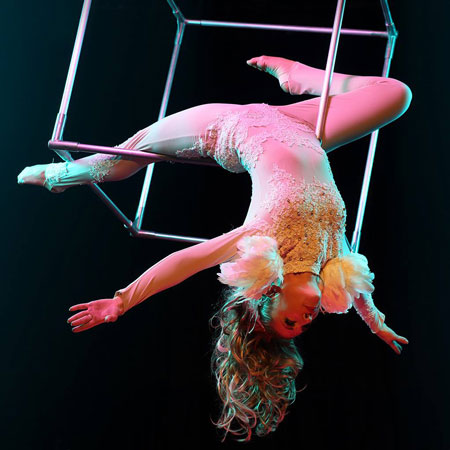 Freestanding Aerialist
Portable aerial rig is perfect for venues without rigging
Multi-skilled aerialist can perform silks, hoop, cube or on an exciting LED cube prop
Aerial silks artist will mesmerise your guests with death defying drops and gymnastics
The lesser-seen aerial cube creates a stunning focal point for your event
Based in the Midlands, UK, our Freestanding Aerialist is available for international bookings
Freestanding Aerialist VIDEOS
Freestanding Aerialist PHOTOS
Able to provide a self-supporting portable aerial rig for venues without rigging, our Freestanding Aerialist is perfect for both indoor and outdoor aerial displays. 
Creating stunning shapes in the air with breathtaking aerial artistry, our aerial silks artist offers a number of shows to be performed high above the heads of your audience. 
A mesmerising circus skill, our multi-skilled aerialist can perform with an aerial cube, silks, or hoop depending on your preference. Sure to enchant guests with her elegant movements, our aerial cube performer's death-defying drops and gymnastics will also shock and delight.
Happy to perform on your venue's own rigging, or bring her own portable aerial rig, our multi-skilled aerialist opens up this hypnotic entertainment to almost any venue.
Easily erected and disassembled, her portable aerial rig can be set up to two different heights, and can be set up and taken down in just 10 minutes. 
Visually stunning from every part of the room, this aerial cube, hoop or silks performance creates a stunning centrepiece attraction your guests will love.  
Top Tip:
Diversely talented in a range of circus skills, our aerial silks artist is also an experienced stilt walker, poi and fire performer. Watch as she effortlessly manipulates fire fans, devil sticks, and poi, creating stunning shapes in the dark sky. For even more impact and drama, her fire eating and breathing performance is a must. 
Scarlett Entertainment offers a wide range of aerial silk artists for events. Discover more of the multi-skilled aerialists on our extensive roster for more inspiration.
To book our freestanding aerialist for your next event and create an immersive circus or glamorous theme, get in touch with our team of Entertainment Experts who will be happy to help with your booking. 
Samsung
EE
ITV
Royal Caribbean Cruises
Celebrity Cruises
Blackpool Opera House
Smart Parties
Best Parties Ever