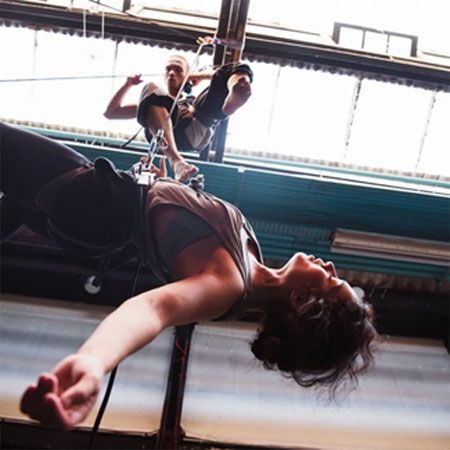 French Aerialist Company
In 2016 the company has been hosted in residence for its first creation contemporary and aerial dance piece for 9 dancers, 1 singer and 2 musicians
These artists are masters in their art and know the dance, acrobatics, aerial gymnastics, and acting
A perfect act for corporate events, festival or stage show
Artists of diverse horizons including singer, musicians, painters / visual artists, videographers, and photographers
This company has been immediately meeting the enthusiasm of the artistic community and allow the evolution of the show
French Aerialist Company PHOTOS
This unique aerialist company was born in 2014 in Paris. Binding contemporary dance and dance flight, the artistic director and choreographer makes choreographies in collaboration with artists of diverse ranges: singers, musicians, painters / visual artists, videographers, and photographers.
In 2013, she developed rope suspension dance workshops at the Micadanses studio in Paris, where she immediately met the enthusiasm of the artistic community.
Company's workshops has been now exported to new institutes in France (PSPBB Conservatoires sup Jazz, Châteauroux), and abroad (Royal Academy of Wallonia, Belgium).
In 2016 the company made its first creation Răscoala ("Uprising" in Romanian), contemporary and aerial dance piece for 9 dancers, 1 singer and 2 musicians.
The company also works with video collaborating with famous directors such as Liven, Louise Abbou and Julien Vaugelade.
The artistic director of our French aerialist company has collaborated twice with the company Makiato.
This unique aerialist company keeps on raising its momentum for ongoing projects, thanks to the support of the General Counsel of the Department Puy de Dôme and Black Puma.