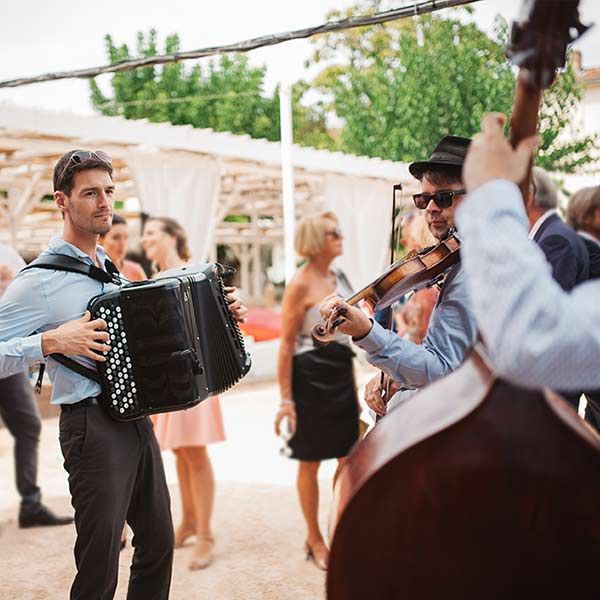 French Gypsy Jazz Band Lyon
High-end traditional gypsy jazz band have delighted guests worldwide with their authentic French jazz music!
A vast repertoire including chanson Français, jazz monouche and Latin jazz will create that traditional French cafe atmosphere
Different line ups available from a duo to a quartet including French accordion, guitar, violin and double bass with or without vocals
Previous clients include EURO 2016, UEFA, Marriott, Radisson, EDF, Peugeot and Vantage among others
Based in Lyon our French jazz band is perfect for weddings, French themed events, private parties and corporate events
French Gypsy Jazz Band Lyon VIDEOS
French Gypsy Jazz Band Lyon PHOTOS
Create the perfect atmosphere at your event with some of the most sort after French jazz musicians in Lyon! Performing each and every song with their own personal and unique sound, this Gypsy Jazz Band specialises in French music, gypsy jazz and instrumental music. 

Offering flexible and scalable lineups, this jazz manouche band can be booked as a duo, trio or quartet and boast a wide repertoire ranging from songs by Edith Piaf and Yves Montant to Django Reinhardt. These jazz musicians will set the perfect tone for your event with acoustic background music. 
Amsterdam/Vesoul
Armstrong
C'est magnifique
C'est si bon
C'est un mauvais garçon
Comme d'habitude
Emmenez-moi
Je m'suis fait tout petit
La bohème
La foule
La javanaise
La mer
La vie en rose
Le petit bal du samedi soir
Les champs elysées
Les copains d'abord
Les feuilles mortes
L'hymne à l'amour
Ménilmontant
Mon amant de saint-jean
Padam padam
Sympathique
All of me
Anniversary song
Bei mir bist do schon
Blue drag
Caravan
Coquette
Douce ambiance
Dream a little dream
I've found a new baby
Fly me to the moon
Jardin d'hiver
Joseph Joseph
Just two of us
L.O.V.E.
Le parrain
Les yeux noirs
Rythmes gitans
Sweet georgia brown
Swing gitan
Tears
Belle Ciao
Le temps des fleurs
Amélie Poulain medley
Por una Cabeza
Libertango
Indifférence
Le mauvais garçon
Le petit bal de la marine
Passion
Sa préférée
Sous le ciel de Paris
Swing Valse
Besame mucho
Jardin d'hiver
Manha de carnaval
Quizas
Sway
Tico tico
It don't mean a thing
Little king
Nothing but the flow
When you come to my mind
Creep
Isn't she lovely
Lemon Tree
One of Us
Stand by me
Sunny
Sweet home alabama
UEFA
Euro 2016
Marriot
Radisson
EDF
Peugeot
Vantage
Mondial De L'auto
Dyson
Hotel Barriere
Groupama Stadium
Marriott
Mercure Hotels
Partouche
Fourvière
L'embarcadère
F & K Bistro Club
Les Halles de Lyon
Casino Hall
Domaire le Lyonvert
Viking River Cruises
Chateaux de Varennes
Bateaux Mouches
Les Bateaux Lyonnais
Caisse D'epargne
Villa Verde
Top 14 Rugby
sOyeres
Notaires
Victoria Hall