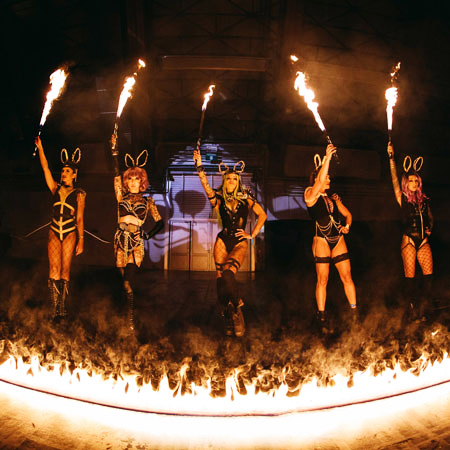 Fuel Girls
World famous multi-skilled fire performers and aerial acrobats providing unique pyro shows
Fully customisable routines and multiple themed costumes available
Always deliver the highest quality, unforgettable WOW factor shows
Clients include ITV, Coca Cola, The X Factor, Ministry Of Sound and Monster Energy
Based in London and available for events all over the world
The Fuel Girls are a collective of sexy, sophisticated and multi-skilled performers and acrobats. Far beyond conventional and standard fire performers, the Fuel Girls deliver passion filled high calibre fire shows that leave audiences stunned and hot under the collar. With a style and fire show that wouldn't look out of place in Mad Max's Beyond The Thunderdome, the edgy rock and alternative chicks are truly one of a kind.
The rock and roll dance troupe provide high end WOW factor fire shows either as an event highlight or as accompaniment entertainment to emphasise another performance (see the video, above, of them on the Reading Festival main stage with Fallout Boy). Their grand-scale fire shows are an exhilarating combination of mesmerising and jaw dropping aerial acrobat displays combined with breathtaking and visually enthralling fire acts. The sexy, provocative fire performers and aerial acrobats are some of the best in the business. Highly skilled, completely safety trained and natural entertainers able to captivate any audience. 
The fully customisable fire shows from the Fuel Girls includes an almost limitless supply of fire props such as fire sticks, fire poi, fire fans, fire whips, fire swords, fire hula hoop, fire breathing, sparkle fire, and even flame jet gun. The fire performers will create a bespoke routine especially for your event. To add to the grandeur of the fire show you can add some of the incredible aerial acrobats for that extra WOW factor. These aerial acrobats perform on silks, hoops, chains and even poles depending on your requirements. Not only do Fuel Girls offer tailorable routines but the fire performers and aerial acrobats can come in a variety of wonderful costumes and can be customised to suit many themes. 
Available for everything from huge arena shows to intimate private parties the Fuel Girls are the perfect choice for providing a WOW factor fire show. They have extensive experience performing at a wide variety of events including extreme sports, tattoo exhibitions, car and motorbike events, rock and dance festivals, nightclubs, private events, fetish events, lifestyle and corporate events. They have featured in music videos, brand launches and on-stage performance with big named artists such as Fall Out Boy and Motorhead. 
This collective incredible performers have provided fire shows for the London Tattoo convention, Playboy Mansion, Masters Of Dirt, Hellfest, Reading & Leeds Festival and the Geneva Supercross so you know that if you book Fuel Girls for your event, you will receive an unforgettable experience.
TopTip:
A variety of line up options are available to suit all event types and budgets. 
If you want to leave audiences with experience like no other then contact our team of Entertainment Experts who will be more than happy to help. 
Calgary & Edmonton Tattoo and Arts Festivals
Coca Cola
Fall Out Boy
Gumboil Rally
Hellfest
Iron Firs
London Tattoo Convention
Ministry Of Sound
Monster Energy
Playboy
Swiss Moto Show
Verve Street Racing
Addison Lee
Castrol
Diesel Clothing
Geneva Supercross
Hard Rock Hotel
ITV
Liverpool Tattoo Show
Masters Of Dirt
Misguided
Motorhead
Reading Festival & Leeds Festival
The X Factor
Arena X