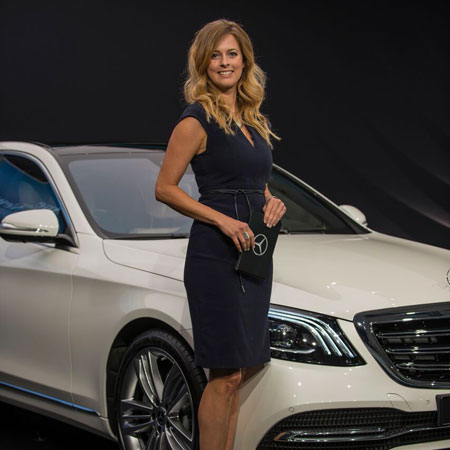 German and Italian Presenter
Conference Host, Presenter and Journalist from Munich, fluent in English,German and Italian
More than 10 years of experience and 2000 event moderations, our presenter captivates guests with good knowledge, charming style, and preparation
Previous clients include: Bayer AG, Munich Airport, HUAWEI, PTA Channel, Sky, ProSieben, FC Bayern Munchen, Redbull and many more
Linguistic and trilingual presentations in German, English and Italian are natural for Maxi enabling her to reach audiences from all over Europe
Based in Munich, Germany and available for worldwide bookings
German and Italian Presenter PHOTOS
A conference host, presenter and journalist from Munich who is fluent in English, German and Italian, our trilingual presenter Maxi is a must have for every event looking to connect with their guests and promote their company in the best light possible.  Our German and Italian Presenter has over 10 years of stage experience and 2000 event moderations. 
Our corporate presenter captivates guests and leads with good general knowledge, charming style and professional preparation for every event. With extreme dedication to every event our German and Italian Presenter ensures she knows everything about your company and your event so that she can talk with confidence and present your brand in the best possible way. 
Over the years, our Munich conference host has worked for many high-end clients from Bayer AG, to Audi, Munich Airport, HUAWEI, PTA Channel, Sky, ProSieben, FC Bayern Munchen, Redbull and many more.
Linguistic and trilingual presentations in German, English and Italian are natural for Maxi enabling her to reach audiences from all over Europe and bridge language barriers with her presenting skills. 
With a diverse skill set our Munich conference host can adapt her style to suit many different events from sporting to the corporate world, car launches to conferences and more - this German and Italian Presenter is a force to be reckoned with. 
Whether you are looking for a moderator, event host, interviewer, TV presenter or journalist, our talented and versatile German and Italian Presenter is a must have for all high-end events. 
With a warm and charming presenting style our event host makes guests feel welcome and interviewees feel relaxed. The perfect event host and corporate presenter, this talented presenter ensures that every event runs smoothly and that guests are thoroughly engaged. 
To book our German and Italian Presenter or for more information about booking this conference host, get in touch with our helpful team of Entertainment Specialists.
Bayer AG
Deutsche Bank
HUAWEI
Munich Airport
ProSieben
SKY
TYPO3 Award
AOK
Dental Metro News
FC Bayern München
Milan GmbH
Porsche
Reis
Sony Music
World Cup
Audi
Daimler AG
Eurovia
Lufthansa
Philipps
Red Bull Media House
Siemens
WACKER
Continental
Deutsche Telekom AG
Lucky7even
Open Grid Europe
Randstad
Samsung
TechFounders
...and many more!
" She has individually adjusted to our guests and accompanied them eloquently during the three days of the event. She has confidently worked into complex technical content in order to be able to conduct specialist interviews with our experts. Her moderation was varied and lively. Thus, she contributed to an entertaining design of our show program. We are very grateful for her dedication and competence and look forward to working with her again in the future "

Janine Strecker - Project Manager Experience Marketing, MAN Truck & Bus AG
" For the launch of our new vehicle MAN TGE in Barcelona with 14 days of event and over 1100 guests from 23 countries, we engaged Maxi as a presenter, not only accompanying the extensive technical product presentation as a moderator, but also warmly welcoming the guests at the evening event Maxi quickly and knowledgeably worked his way into the matter, bringing the event to life "

Felix Weiland - Marketing Manager TGE, MAN Truck & Bus AG
" She as a moderator has quickly found a presence in our profine world, delighting our customers and ourselves alike with their charm, Maxi was part of our team right from the start and the collaboration was not only successful, but she was a lot of fun "

Marc Habermeyer - Head of Marketing and Brands, profine International Profile Group GmbH
" The Audi Central Launch Training places demanding requirements on the moderators: every day, 200 new participants who want to be welcomed or dismissed as if they were the first participants. And yet the speech must always be highly standardized - exactly to the second! Maxi has managed to accomplish this task very professionally and yet with her own freshness and radiant personality. Our participants immediately accepted her. She represents the Audi brand with absolute authenticity and has become an integral part of the Audi training family within a very short time. "

Thomas Ippendorf -  Audi Training Center Head and Audi Forum Airport Munich Headquarters