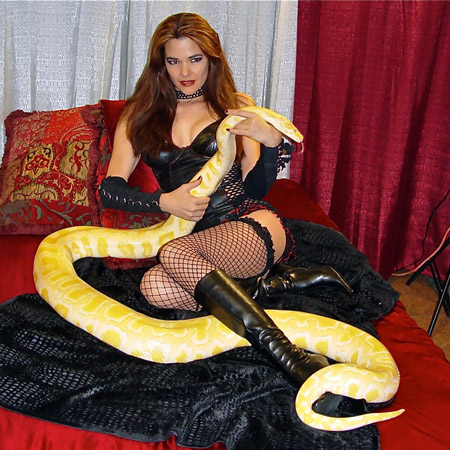 Glamorous Snake Charmer
This glamorous snake charmer will excite your guests with her dangerous performances
She is also a model, magican, fire eater & owner of exotic animals
Can provide a full stage show or meet & greet guests & pose for photos
Has appeared on The Tonight Show & worked with clients inc. Nokia & IBM
Based in Las Vegas & available to perform at events worldwide
Glamorous Snake Charmer PHOTOS
Our glamorous Vegas snake charmer, magician, model and fire eater is a natural born entertainer. Owner of 25 snakes and 26 other exotic animals, she has devoted her life to caring for and nurturing mistreated animals. Specializing in high impact, sensual snake performances, her dedication to the welfare of her animals enables her to achieve dangerous and thrilling live stunts!
A mutli-talented performer, she can provide full length magic shows, fire eating demonstrations, snake charming or amazing walkabout entertainment. Perfect for corporate functions, gala dinners and private parties, book our stunning Las Vegas snake charmer for family friendly shows for younger audiences or more risqué entertainment to really excite people at your corporate or private event.
A highly sought after performer, she has appeared on numerous television programmes including the Tonight Show and the David Letterman Show, as well as entertaining high profile corporate clients including Nokia and IBM.
Also able to design custom performances for your special occasion, this spectacular artist can combine any number of her acts to bring a wow factor to your event. Contact our Las Vegas office today for more information about booking this glamorous snake charmer for your next event.
Top Tip!
Speak to our Las Vegas based Entertainment Specialists for tips on how to keep the snakes content backstage - a quiet area and a power socket for a heat mat should do the trick!
1998-1999 Billboard Music Awards (snakes)
TNN's Primetime Country (snakes)
Film: "Baby Geniuses" (snakes tarantulas)
E! Television- "Wild On" Series (fire eater & snakes)
NBC's "You Asked For It" (featured act)
Aladdin Hotel Casino commercial (fire eater & snake charmer)
"The Tonight Show" (Handling Birds of Prey)
NBC's "The World's Greatest Magic II" (Monkey)
Fremont Street Las Vegas commercial (fire eater)
"Card Sharks" game show (featured actor with snakes)
"Late Night w/ David Letterman"
Fred Nassiri Music Video (showgirl)
William's Oil Co. national commercial (tortoises)
"To Tell the Truth" Game Show (guest with snakes)
Travel Channel commercial (snakes)
Nevada Health Care commercial (fire eater)
Playboy's "Sexcetera" (magician)
"The Jerry Springer Show" (featured magician)
"30 Seconds to Fame" (featured act)
"Blind Date" (snakey activity for the daters)
Penn & Teller's "BullShit" on Showtime (provided exotic animals)
"Penthouse Vegas" (featured guest)
"Steely Dan Confessions" (featured performer)
"America's Most Wanted" (snake charmer)
"Ripleys Believe it or Not" (feature)
Animal Planet special "Secrets of Animal Magic" (feature)
Animal Planet's "The Pet Psychic" (yes she spoke to my snake)
Animal Planet's "Lance Burton's Guerilla Magic" (finale magician)
Roger Corman's "Crocosaur" (fire eater & snakes in bar scene)
Hosting Comedy Central's "Friday Night Stand Up"
"Taff" German Television show (feature w/ snakes)
2005 Spring Paris Hilton "Guess" photo shoot (snakes)
E!'s "The Entertainer" opening party (fire & snakes)
"Vegas Virgins" British reality show (feature w/snakes)
Corporate clients include:
IBM
American Express
Kraft/ Nabisco
Adult Video Network Awards
World Gaming
Liquid Blu
Television & Film Appearances Include:
Nokia
Culligan
Blue Man Group
COMDEX
Western Beauty Assoc.