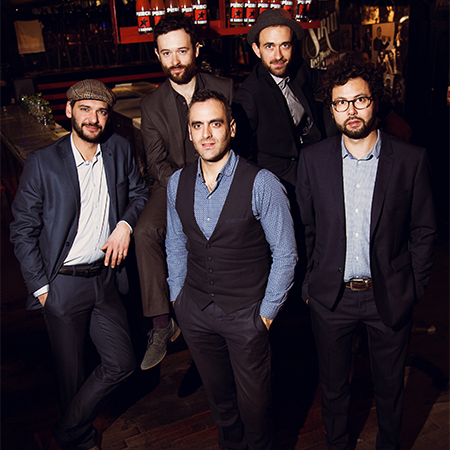 Gypsy Jazz Band Lyon
Perform a combination of American swing and traditional Gypsy music
Convey rhythms and melodies in the swing/ jazz style of the forties
Perfect for cocktail parties, concerts, jazz festivals, weddings...
Consist of clarinet/sax, guitar, rhythmic guitar, double bass, drums
Based in Lyon and available to perform throughout France
Gypsy Jazz Band Lyon VIDEOS
Gypsy Jazz Band Lyon PHOTOS
This French Gypsy jazz band (also known by its French name as "Jazz manouche") was born out of its members shared passion for the music of Django Reinhardt. 
Performing a combination of American swing and traditional Gypsy music the members of the ensemble express their passion and art through their individual instruments and their group performances, conveying rhythms and melodies in the swing/ jazz style of the forties.
Light music events
Their sound and rhythms will be adapted to the occasion, creating a dynamic, friendly and convivial atmosphere for your cocktail parties and other informal events.
Great music for dancing
Swing dancers of the forties and even Rock lovers will feel the urge to get on their feet. On a regular basis, Lindy Hop and Balboa amateurs call on this ensemble and trust them in animating their dances that are increasingly coming back in style.
Concerts and festivals
In concert, this ensemble will be able to fully express, for your enjoyment, the wide spectrum and subtleties of Jazz and Swing music. Concert performances remain unquestionably a unique experience during which special musical moments and the magic between audience, music and musicians can be shared.
All of me
Anouman
Autumn leaves
Bastian
I Wanna be like you
Bei mir bist du shein (schön)
Belleville
Besame mucho
Blue Bossa
Blue Drag
Blue moon
Blues en mineur
Bossa Dorado
Caravan
C'est si bon
Clair de lune
Coquette
Danse Norvégienne
Danube
Daphné
David
Dinette
Djangology
Douce ambiance
Doxy
Fly me to the moon
For Sephora
Georgia on my mind
I can't give you anything but love
I'll see you in my dreams
Indifférence
Inspecteur gadget
Isn't she lovely (check tona)
It don't mean a thing
It had to be you
J'attendrai
Jardin d'hiver
Joseph Joseph
Joyeux anniversaire
Just a gigolo+Ain't go nobody
Oh Lady be good
A l'est
La Partida (Valse vénézuélienne)
Les yeux noirs
Les yeux ouverts (Dream a little dream)
Let's fall in love
Lullaby of birdland
Mabel
Manoir de mes rêves
Ménilmontant
Minor Swing
Miré Pral
Mount Harissa
My little suede shoes
Night in Tunisia
Nuages
On the sunny side of the street
Opus one
Out of nowhere
Paquito
Parle plus bas
Petite fleur
Satin Doll
Seul ce soir
Someday my prince will come
Songe d'automne
Sunny
Sweet Georgia Brown
Swing 39
Swing 42
Swing 48
Swing gitan
Syracuse
Take the A Train
Tears
The shadow of your smile
There will never be another you
Things ain't what they used to be
Tico Tico no fuba
Troublant boléro
Valse à Charly
Webster
You make me feel so young
La foule