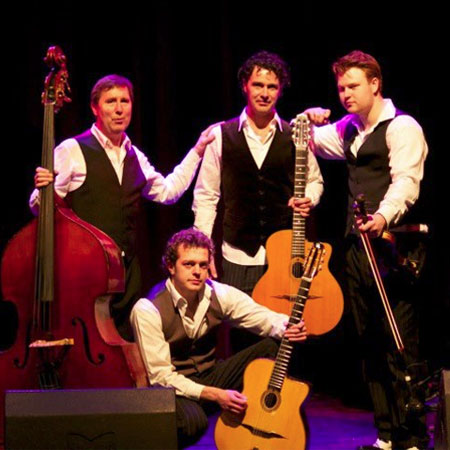 Gypsy Jazz Quartet
Create stunning acoustic instrumental performances
Individually they are acclaimed soloists, together simply breathtaking
Each piece is performed with passion and flair, drawing audiences in
Breathe new life into the worlds of classical, jazz, Latin, rock and blues
Based in the UK and available to perform as a duo, trio or quartet
Gypsy Jazz Quartet VIDEOS
Gypsy Jazz Quartet PHOTOS
This Gypsy Jazz Quartet's explosive energy and unstoppable talent has created a dynamic quartet that is unrivalled. Blazing a trail that cannot be followed, their mission statement is to show what can be done with REAL instruments. The quartet's magic breathes new life into delicious dark and impish melodies from the worlds of classical, jazz, Latin, rock, blues and beyond. Each piece is performed with passion and flair, drawing audiences in - teasing and surprising with twists and turns of harmony and rhythm.
The quartet features the acoustic guitars plus an award winning jazz violinist and Double bassist, Individually they are acclaimed soloists, together they are simply breathtaking.
Top Tip:
This popular act is in demand for celebrity booking and has previously performed at private parties for the likes of the Beckham's and Elton John.
To find out more about how to book get in contact with our helpful team of Entertainment Experts.
Isn't She Lovely
The Theme to the  Flintstones
Embraceable You
I'm Confessin'
Sweet Georgia Brown
I Can't Give You Anything But Love
The Theme to Pulp fiction
Somewhere Over the Rainbow
It Don't Mean A Thing
It Had To Be You
Japanese Sandman
(Je Suis) Seul Ce Soir
Just A Gigolo
La Gitane
Latcho Drom
Lulu Swing
Ma Premiere Guitare
Marie
Noto Swing
Out Of Nowhere
Place Parodi
Romany Waltz
Rosette
Seresta
Shine
Some Of These Days
Stompin' At Decca
Swing 42
Swing D'Alsace
Swing Des Puce
Stormy Weather
Symphonie
Tears
Tenderly
Tiger Rag
To Each His Own
Time On My Hands
Valse A Rosenthal
Valse Bamboula
Valse Venezuella
Vous Qui Passez Sans Me Vior
When Day Is Done
All Of Me
Avalon
Belleville
Besame Mucho
Billet Doux
Black & White
Cesar Swing
Chez Jacquet
Chez Moi
Chicago
Cou Cou
David
Deed I Do
Dikeno Sinto
Dinette
Djangology
Donna Lee
Groovin High
Louise
Lyola
Milko
Mire Pral (My Brother)
Nuages
Old Man River
The Man I Love
Three Little Words
Tico Tico
After you've gone
Anouman
Autumn Leaves
Beyond the Sea
Blues En Mineur
Blues for Ike
Cherokee
Clair de Lune
Coquette
Danse Norvegienne
Daphne
Dark Eyes
Deep Purple
Djangos Tiger
Don't Worry About Me
Echoes of France
Fleur de Lavende
How High The Moon
Hungaria
I Can't Believe Your In Love With Me
I Love You
I'll see you in my dreams
Insensiblement
Just one of those things
J'Attandrai
Limehouse Blues
Melodie au Crepescule
Menilmontant
Minor Swing
Montagene Saint Genevieve
My Melancholy Baby
Nature Boy
The theme to desperado
Ou est-tu Mon Amour
Pent Up House
Rose Room
September Song
Swing Gitan
Swing 39
Take the A Train
Tea for Two
Troublant Bolero
The Anniversary Song
Them there Eyes
There will never be another you
Wave
What is this thing called Love
All The Things You Are
Begin The Beguine
Blue Drag
Body And Soul
Brazil
Bricktop
Bonjour Gypsy
Caravan
Chega De Saudade
China Boy
Dinah
I Surrender Dear
I Wonder Where My Baby Is Tonight
I'm In The Mood For Love
Jersey Bounce
La Foule
La Promenade
Lady Be Good
A Little Love A Little Kiss
A Tisket A Tasket
Ain't Misbehavin'
All Love
Are You In The Mood
Baby Won't You Please Come Home
Belz
Blue Skies
Blues Clair
Bossa Dorado
Clouds
Crazy Rhythm
Dolores
Du Dja Yal
Flora
Georgia (On My Mind)
Hallelujah
Honeysuckle Rose
I Can't Get Started
I Love You For Sentimental Reasons
I'll Never Be The Same
I'll Never Smile Again
In A Sentimental Mood
It's Only A Paper Moon
I've Found A New Baby
I've Had My Moments
Lentement Madamoiselle
Liza
Lover Man
Mano
Metro Swing
Micro
Move
My Blue Heaven
Nagasaki
Night And Day
On A Slow Boat To China
On The Sunny Side Of The Street
Oriental Shuffle
Paquito
Pennies From Heaven
Seul A Paris
Solitude
Sweet Sue
Swing Valse
The Sheik Of Araby
The World Is Waiting For The Sun To Rise
Valse A Dora
Yesterdays
Topsy
Tchavolo Swing
Undecided
Djangos Castle
Douce Ambience
Dream Of You
Esprite
Exactly Like You
Gypsy Dreams
Hanchi Swing
On Green Dolphin Street
Paprika
Place De Brouckere
Please Be Kind
Songe D'Automne
Sonia
Stella By Starlight
Sweet Chorus
Swing Guitars
Nuits de Saint Germain de Pres
" .....refreshing......branching out so unselfconsciously "

Nigel Jarrett, 4stars in Jazz Journal
" I was lucky to catch them live and LOVED it. The energy and musicianship were inspiring "

Jennifer Batton, guitarist w/Michael Jackson
" they brought an utterly dynamic crescendo to our festival's final night "

Max Mason, director, Oxford Jazz Festival
" what a great night! (they) really got the place rocking "

Gina Borham, Vortex Jazz Club
" astonishing response from audiences "

Bobby Furgo, violinist, Leonard Cohen
" They put on a simply breathtaking performance........ "

The Hideaway, London