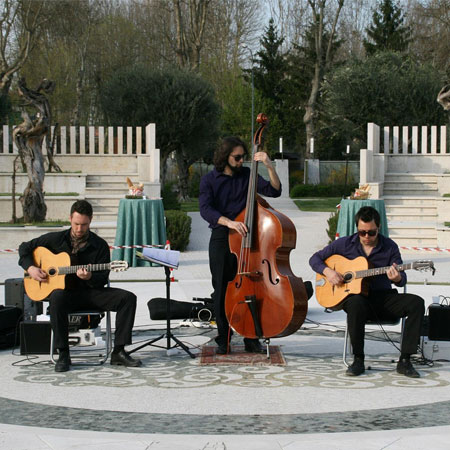 Gypsy Jazz Trio Italy
Dedicate their music to the gypsy-jazz style of guitarist Django Reinhardt
Winners of the prestigious national Barezzi Live 2007
Perform a selection of the very best swing manouche and gypsy jazz
Provide a highly authentic gypsy jazz sound perfect for themed events
Based in Parma and available to perform at events worldwide
Gypsy Jazz Trio Italy VIDEOS
Gypsy Jazz Trio Italy PHOTOS
Our Gypsy Jazz Trio, based in Parma, is a musical project founded in 2003. They have dedicated their sound to the gypsy-jazz music founded by the legendary guitarist Django Reinhardt.
Winners of the prestigious national "Barezzi Live" in 2007, the talented band members have also worked with Angelo Debarre, Stochelo Rosenberg, Antoine Boyer who are among the first guitarists in the world of gypsy-jazz and many other Italian artists.
Together they perform a selection of the very best swing manouche music. Drawing mainly from classic gypsy jazz style swing music, they also incorporate other musical styles such as classic jazz standards and vocal features.
Providing an authentic gypsy jazz sound, with all the correct acoustic instruments, the band are perfect for themed 1930s or 1940s events, or just to give that added extra dimension to your special event.
Contact us to book the gypsy jazz band for all types of events in Italy, and further afield.