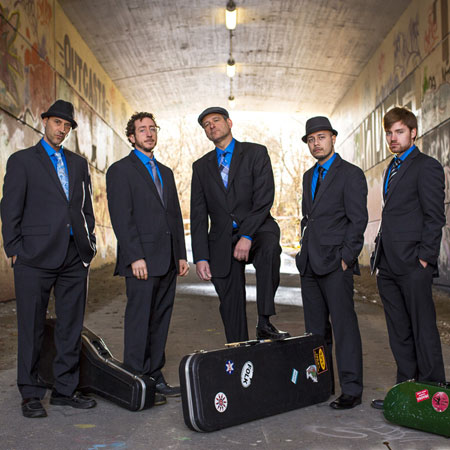 Gypsy Pop Band
Offer a mélange of up-tempo, high-energy rhythms of gypsy swing & jazz
Deliver a thrilling auditory experience to listeners!
Incredibly energetic & charming entertainers who interact with audiences
Create a sound, which is appealing to a wide spectrum of people
Based in Boston, USA & available to perform at events worldwide
Gypsy Pop Band deliver a mélange of up-tempo, high-energy rhythms of gypsy swing, melded with the catchy melodic hooks of pop and complex structures of jazz. Together they deliver a thrilling auditory experience to listeners!
The band's music cannot be easily classified; a bit of jazz, a catchy strain of pop, and a whole lot of gypsified swing! They have found a unique beat and bestow a dynamic mix of original vocal and instrumental pieces, performed in fun and exhilarating performances.
Their unique approach to world, pop, jazz and dance music stems from the influence of Gypsy Swing founders, Django Reinhardt and Stephane Grapelli. The members of the group posses a deep knowledge and reverence for the Gypsy style and feel honoured to bring their music to the ears of new audiences. And now, with an ever-growing list of performances, and increasing online presence through website and social networking pages, their fan base is constantly expanding.
A Gypsy Pop Band performance includes so much more than just music. Together they are incredibly energetic and charming entertainers who interact with fans on a personal level, and incorporate audience participation into every show.
The band have played on over 22 states including shows at the legendary Nighttown in Cleveland, Old Town School of Folk Music in Chicago, Bluebird Cafe in Nashville, and Blue Wisp in Cincinnati. They have shared the stage with such greats as Rikki Lee Jones, Jorma Kaukenen, Stanley Jordan, Joe Sample, Tony Rice, and David Bromberg.
Their sound is appealing to a wide spectrum of people, and their shows consistently attract enthusiastic audiences at colleges, arts centres, festivals and clubs.
" Last night we featured Occidental Gypsy, on their first West Coast Tour. In the style of Django Reinhardt, their Gypsy Jazz and World music is amazing. We recommend them to any venue and hope to have them back when they come to California again. "

Michael Adams, Soper-Reese Theatre
" Great singing, fantastic guitar and violin work, with high energy originals that left the crowd crazy. An awesome band. "

David Bromberg, Musician
" Outstanding. I love the energy and harmony and melodies and the lyrics, okay, I just really like this band. "

Dee Perry, WCPN Cleveland "Around Noon", Radio Interview, 2012
" These guys can really swing! In fact, the first time we had them at Rhythm & Roots, they swung so hard that the crowd demanded that we bring them back the next year. "

Chuck Wentworth, Producer, Rhythm & Roots Festival