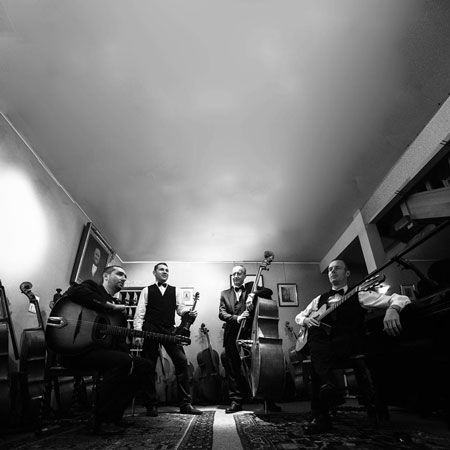 Gypsy Swing Band Nice
Fantastic band will bring vibrant sound to your event
Original arrangements of all the most famous jazz standards
Musical influences from around the globe
Ideal entertainment for your party, wedding, or corporate function
This Gypsy Swing Band is based in Nice and available to perform at events worldwide
Gypsy Swing Band Nice PHOTOS
Our accomplished gypsy swing band will charm guests at your event with their upbeat, colourful sound and true panache for performance, imbuing any occasion with a mellow, sophisticated ambience.
Revisiting and reinterpreting the most famous jazz standards and gypsy music from the likes of Django Reinhardt, Emir Kusturica and Duke Ellington, the band will take you on a journey through the world's greatest jazz offerings.
Featuring Liviu on violin, Nicolas and Alexandre on guitar, and Laurent on bass, our brilliant gypsy swing band are certain to be the highlight of your event.
If you're interested in booking this fantastic Gypsy Swing Band from Nice, contact us today and make your enquiry!
- Les yeux noirs - Traditionnel
- Blues mineur - Django Reinhardt
- Minor swing - D. Reinhardt
- Troublant Bolero - D. Reinhardt
- Indifférence - Tony Murena
- Nuages- D. Reinhardt
- Coquette - D. Reinhardt
- Daphné - D. Reinhardt
- Douce ambiance - D. Reinhardt
- Djangology - D. Reinhardt
- Hungaria - D. Reinhardt
- LimeHouse blues - D. Reinhardt
- Lulu swing - D. Reinhardt
- Pour trois pas - Romane
- Songe d'automne - B. Lagrene
- Tchavolo swing - Tchavolo Schmitt
- Tears - D. Reinhardt
- Dinette - D. Reinhardt
- Sweet Georgia Brown
- Swing 42
- Tiger Rag
- Django's Tiger
...
Musique Française
- La foule - E. Piaf
- C'est si Bon - Y. Montand
- A bicyclette - Y. Montand
- Mesnilmontant - C. Trénet
- Le poinçonneur des lilas - S. Gainsbourg
- Les copains d'abord- G. Brassens
- Ma 1ere guitare - S. Distel
- Les deux guitares- C. Aznavour
- La vie en rose - E. Piaf
- Mon amant de St Jean - E. Piaf
- Sous le ciel de Paris - E. Piaf
...
Musique TziganeRusse Balkans & Jewish
- Ciocarlia - Tzigane
- Caruta Postei - Tzigane
- Czardas - V. Monti
- Rich Man - Jewish
- Ava Naguila - Jewish
- Ederlezi - Traditionnel Serbe
- Medley Russe (Moscow nights/les 2 oiseaux/Première guitare)-Traditionnel Russe
- Frisch Czardas - Traditionnel Hongrois
- Sarba de concerte - Tzigane
- Katyusha - Russe
- Borino Oro-Goran Bregovic(Serbe)
- Kustino Oro-Goran Bregovic(Serbe)
- Medley Russe II
- Oseh shalom - Jewish
- Zorba Le grec- Le Parrain
- Kalinka - Russe
...
Swing Manouche
- Caravan - D. Ellington
- Lullaby of birdland - G. Shearing
- My fair lady - Loewe
- Night and Day - C. Porter
- Tequila - W. Montgomery
- Lady is a tramp - Rodgers&Hart
- Theme their Eyes - B. Holiday
- There will never be another you - Warren&Gordon
- Night and day - C. Porter
- Cherokee
- Misty - E. Garner
- The shadow of your smile - J. Mandel
- Take the A train - D. Ellington
...
Sud Américain-Bossa Nova-Latin Jazz
- Libertango - A. Piazzola
- For sephora - Rosenberg trio
- Armando's Rhumba - C. Corea
- Ipanema - A.C Jobim
- Jalousie - Tango
- Tico tico - Z. Abreu
- Brazil - M. Kamen
- Wave - A.C Jobim
- Manha de Carnaval(Orfeo Negro) - A.C. Jobim
- Quiet Nights(Corcovado) - A.C. Jobim
- Bossa Dorado - D. Schmitt
...
Musique Classique & B.O Films
- Marche turque - Mozart
- Brahms Danse hongroise N°5
- Brahms Danse hongroise N°1
- Le Parrain - E. Morricone
- Le grand Blond - V. Cosma
...
Jazz Américain
Banque Barclays
Casino Palais de la méditerrannée (Partouche)
Consulat d'Italie
Fondation Cartier
Air France
Casino Les Princes-Cannes(Barrière)
Casino de Monte-Carlo (S.B.M)
Façonnable
Armani